This information text introduces the children to a genre of music which the author calls 'Bubblegum Pop' providing examples of recent hits, including High School Musical and explaining the history of the genre. With its musical theme, the poster links with the National Year of Reading theme for July of Rhythm and Rhyme.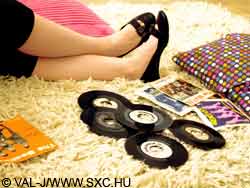 Shared learning and teaching
Before reading
Listen to music tracks by the artists named in the text. This will help the children to understand the information and get a sense of the musical genre being explored. Look at pictures of the featured artists, too.
Previous learning
These activities will build on the following skills: drawing together ideas from across a text, using simple signposts; using organisational features; using context to build stores of vocabulary; writing non-fiction texts in a similar style, selecting appropriate presentational features; using planning to establish clear sections; word processing.
Key learning outcomes:
To give reasons and evidence for views and opinions;
To develop understanding of specialist vocabulary used in information texts;
To write information texts within a given structure, using images and text.
Reading and responding
Begin by asking the children to work with talk partners to discuss what the poster's title might mean. What does the term 'Bubblegum Pop' make them think of? Record their ideas on a mind-map.
Discuss the text features: sub-headings, images, technical vocabulary. Do the sub-headings say what each section will be about?
Read the first paragraph of 'Happy music' and identify technical vocabulary and phrases that will need further explanation – eg, solid beat, riffs, chord patterns. Find definitions using a dictionary or the internet.
Read the rest of this section and, in pairs, define Bubblegum Pop. Listen to tracks from the artists and evaluate them against your definition. Why could they be called Bubblegum Pop?
Read 'Different Taste'. Point out the use of the colon to introduce a list. Generate more words to describe Bubblegum Pop and antonyms to describe other kinds of music. Listen to examples of the other genres and ask why they are not Bubblegum Pop.
Finish reading the poster, discussing unfamiliar vocabulary or phrasing.
Discuss the images associated with Bubblegum Pop artists and the general 'look' of this genre. Design a stage costume for a chosen artist – eg, Kylie Minogue or Britney Spears.
Sample Bubblegum Pop tracks
The Jackson Five: ABC; Blame it on the Boogie The Monkees: Daydream Believer Kylie Minogue: I Should Be So Lucky Tiffany: I Think We're Alone Now Spice Girls: Wannabe Take That: It Only Takes a Minute Aqua: Barbie Girl S Club 7: Reach Britney Spears: Oops!.. I Did It Again Songs from Hannah Montana
Shared writing
Write a short definition of Bubblegum Pop for a musical dictionary. Incorporate a colon to introduce a list of example tracks. Write, or type examples up on the whiteboard and add images.
Group and independent activities
Use the poster to create a timeline showing the development of the Bubblegum Pop genre. Incorporate images to make a visual record.
Use presentation software to create information texts about the subject. Include hyperlinks to music, images or artists' websites.
Create similar posters about a different music genre that the children are interested in. Use the activity sheet as a planning tool. Differentiate the amount of guidance and support you want to give the children (eg, sub-headings, images, examples of music from each genre) to do this task. Make a display about different music genres.
Write a glossary of terms for the poster aimed at a younger audience – or ask the children to create a Bubblegum Pop poster for

KS1

.
Explore modern Bubblegum Pop artists or musical films using the internet and create information texts about them.
Plenary
How well does the poster explain the Bubblegum Pop phenomenon? Would the children change or add anything?
Evaluate the children's own posters and information texts.