Shirley Hughes is one of Britain's most respected and trusted illustrators.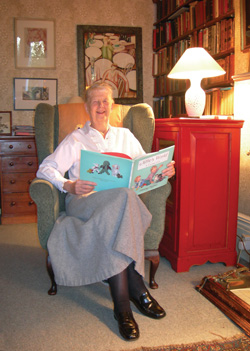 Here comes Alfie: Britain's favourite little boy made his debut appearance in 1981 with Alfie Gets in First. This paved the way for a dozen more titles
I am standing in the hallway of Shirley Hughes' Notting Hill town house, listening to her husband tell me that there's been a mix-up. 'Oh dear, Shirley thought this was a phone interview. She's not up. Do you want to make yourself a cup of tea, while I tell her you're here?'
He's in the process of showing me where the milk is kept, when Hughes glides into the room. She is taller than you would think and exudes an almost startling amount of elegance and warmth. In less than a minute, she has the situation under control. There hasn't been a mix-up, her husband has got it all wrong, and I really shouldn't be making my own tea. I'm immediately offered a cake, or a sandwich if I'd prefer, and shown through to the drawing room. It's like having tea with the grandparents; I'm enjoying myself already.
The reason for my visit is Alfie, the little boy with no surname, and Hughes' most successful creation to date. Since his initial appearance in Alfie Gets in First, he has been the star of a dozen more of Hughes' books. Twenty-five years later he was still going strong, an achievement Hughes decided to mark by publishing Alfie's World: A Celebration. 'I wanted newcomers to see Alfie for the first time, and I also wanted people to reprise the odd story they knew about him and think "Oh yes, I remember that."'
This is just what the book achieves. It is a wonderful exploration of Alfie's life – from his friends and family to his favourite toys, told though photographs, sketches and original drawings. So did Hughes have any idea how popular Alfie would become?
I find it amazing what children can do with a story
'The moment I draw a character is when it really comes to life, and I knew when I drew Alfie that he was pink in the face with determination! But I had no idea when I started that he was going to be a series. I never set out to think "I will now write a series". Each story is simply "This story's got to happen. This is a great story."'
Hughes' style is often regarded as quintessentially English and her stories deceptively simple. Yet it is her talent for encapsulating the everyday experiences of children that has led to a career spanning the best part of five decades. She puts it down to what she calls 'high drama'.
'Life isn't a sweet uneventful idyll at that age,' she explains. 'It is high drama; it is terrific. Things are so big to children. I suppose I try and remember what it is that is really going to grab them.'
Another technique that Hughes uses to great effect is her power of observation. If you go to Holland Park you might catch her on a bench sketching away, a habit she picked up at art school. She then calls on this knowledge when creating her characters. 'I go out with a sketchbook and lurk about in play areas. You start to get an eye for a turning gesture, the way people, particularly children, move. So what you're doing is storing up an enormous memory bank, and then you can go home to your drawing board and make it up.'
I knew when I drew Alfie that he was pink in the face with determination!
An interesting side effect of Hughes' sketching is that she has a vast knowledge of social history. I wonder if she has noticed any great changes in children over the years. 'Not much in the way children actually play, it's quite extraordinary how unchanged the games really are. Of course I do notice a difference in clothes.'
Indeed. To keep Alfie looking contemporary after so many years is no mean feat. In this way Hughes says it is harder to write about reality than fantasy. 'Convincing your reader that this is a real boy doing real things is far more demanding than doing wild fantasy. I'm trying to get children of a very wide social and racial and ethnic background to identify with one child, so it's got to look and feel real.' She pauses. 'But of course it's not real. It's as much a fantasy as any fairytale.'
Hughes intends her books to be treated as a world that children can immerse themselves in, almost as if they are watching a film. She also utilises cinematic tricks, such as opening with an aerial view of a scene before plunging the reader right into the middle of it. 'I'm a very tonal artist. I can create a sense of a real place, but also a sense of moving, of going into the picture. Because it's tonal, you're creating three dimensions out of a two-dimensional surface'.
One way of doing this is to keep the artwork largely naturalistic. 'I want to open up and give people an idea that they can fantasise about what's round the corner and where characters are going. So it's always about trying to get readers to go into the picture.'
Hughes regards pictures as a vital part of growing up and laments the lack of time children spend pouring over them these days. She sighs. 'Unless children are given the opportunity to make their personal exploration of a still image at their own pace, then you are going to get a generation who are so quick on the uptake that they miss half the point. They flip through; they can't look at things. And it seems to me that it's fabulously beautiful out there, fabulously beautiful, and it's such a shame for children to miss out on it'.
This comment naturally brings us onto how books are used in schools. Hughes loves, she says, the way teachers possess the ultimate power of the cliffhanger when telling a story – 'thank God they still do that.' She also gets excited when she visits a school and sees that they've done a project on one of her books. 'It's just so marvellous when you find that people have taken it and run with it. I find it amazing what children can do with a story.'
Finally, I ask Hughes about her work and whether there's anything left for her to achieve. She laughs and rattles off a whole host of projects in the pipeline. Just listening to the list is overwhelming, yet Hughes' enthusiasm is unwavering. She really does seem to be having a ball. 'I've been around for some time but I'm only just beginning to get the hang of it. I've still got so much to learn.' She smiles, then looks briefly concerned. 'Now, are you sure you know how to get home?'