Chris Riddell is a man of many talents: illustrator, cartoonist, author and, with his groundbreaking new book, the saviour of children's reading.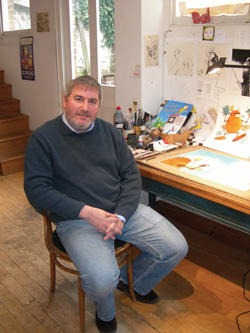 The talented Mr Riddell: his new book, Ottoline and the Yellow Cat, could revolutionise reading
To an outsider, Chris Riddell may seem a bit of an enigma. An award-winning children's illustrator, The Observer's political cartoonist, and the other half of an incredibly successful writing duo with Paul Stewart; it's difficult to know what to make of the man before meeting him.
When we do meet, it's in Riddell's studio, a converted coach house at the bottom of his garden in Brighton. I find him armed with a paintbrush and hairdryer, hard at work on a characteristically quirky picture book, about a mouse who builds robots. He is, he tells me, 'rather busy right now'.
This is somewhat of an understatement, given that he's just completed one book, is finishing the artwork on another, leaves for America in a week on a promotional tour ('I feel like bloody Charles Dickens!'), and has God knows how many projects awaiting him on his return. Oh, and let's not forget his weekly cartoon. Doesn't he ever get overwhelmed?
'I have brief moments of wild frenzy,' he concedes. Yet he doesn't sound frenzied. In fact, it's becoming clear that this is a guy who takes life in his stride.
Picture books are wonderful and we all love them… what gets left behind is this transitional book for the younger reader
The book Riddell has just finished is Ottoline and the Yellow Cat. It is the first in a trilogy and looks set to break boundaries by bridging the gap between picture books and read-alone texts. Aimed at five- to nine-year-olds, the story is about a young girl and her hairy sidekick, who turn detectives to investigate a series of high-society dog-nappings. What's groundbreaking, is that the book is 170 pages long, the pen and ink illustrations are given as much importance as the text, and the whole thing is packaged into a neat little hardback. So, is this format something Riddell thinks has been missing from children's literature?
'I describe it as the "Cinderella" area of children's books,' he explains. 'Picture books are wonderful and we all love them, and then there's this explosion in the older market. What gets left behind is this transitional book for the younger reader.'
Part of Riddell's decision to write Ottoline came after watching his own children learn to read. 'The books that they could read for themselves were simpler than they intellectually wanted. So I was interested in doing something that was simple enough to read but also had a certain complicated format and look to engage kids.' He pauses. 'You don't have to be simplistic just because the format is simple.'
No, indeed you don't. Riddell's style is very playful, being rather knowing and arch, and he employs lots of digressions and referencing to get readers on side. His illustrations also contain an incredible amount of detail and humour, displaying overtones of EH Shepherd, Tenniel and William Heath Robinson. His secret is to approach his work from a picture book angle. 'I'm an illustrator who likes to write. So to me, what pictures say, is just as important as anything I'm doing linguistically.'
To demonstrate this point, he hops up, starts rummaging through a massive chest of drawers, and presents me with a pile of his sketchbooks. 'Everything begins visually; I keep sketchbooks because that's where I think all the best stories start to come together. Any of these characters could turn into something – or they might just remain forever in these pages.' Riddell laughs: 'Goodness knows what a psychiatrist would make of some of this stuff!'
Like Shepherd and Tenniel before him, Riddell has joined the long tradition of combining children's illustrations with political cartoons. I inquire if the two go hand in hand. 'Yes, they can do. I don't feel that when I'm doing my cartoon, I'm somehow putting on my political cartoonist's hat and being very different. People always think that they're two very different worlds, a Sunday newspaper and a story for children, but visually they're doing the same things, and that's what I enjoy.'
He gets up again and opens another drawer. Out comes a selection of his political cartoons; his caricatures of Tony Blair are fantastic ('one tends to draw him instinctively!'). I'm starting to feel like I'm at a private viewing; Riddell's studio really is a treasure trove of artwork and ideas. Doesn't he worry that his imagination might fail him one day? 'I've always worked on the principle of never save things, just go for it. Because the more ideas you have, the more you'll get.' With that, something tells me Riddell could be around for a very long time.
---
Moving on up
Damian Kelleher's top five tips on making the transition from picture books to text-based reads
1. Picture this
Children love picture books, and sometimes what they're most afraid of is losing the pictures forever. Make sure children realise that they never have to close the door on picture books completely. At the end of a session with a text-based book, invite a child to choose a favourite picture book and then read it together.
2. Imagination overdrive
To make the leap from pictures to text, a child's imagination has to kick into creative overdrive. Help them out by selecting a book that still has a high image-to-word ratio. Or, if there aren't any pictures, choose a book that conjures bold visual images and has large, legible text.
3. Child's choice
Let children choose a story that they want to read. You can guide them if necessary, but if they insist that a certain book is right for them, be supportive. If the book really isn't working out, help pick another title, or suggest some other more suitable ones. Choosing a book is a great way for a child to feel more positive about their reading.
4. Confidence boost
Once a child begins to feel more comfortable in their own ability, they'll feel happier with making the transition. At the end of reading a text-based book, be generous with your praise. Offer rewards as an incentive to finish the story – stickers, for example. It'll give more of a sense of achievement when a child makes it to the end.
5. Quiet corner
Reading a text-based book demands a higher level of concentration – even for adults. Be realistic and make sure children have a quiet spot with fewer distractions around them, so that they can give the text the attention it needs.