Use the world of modern technology to switch children on to the delights of creative writing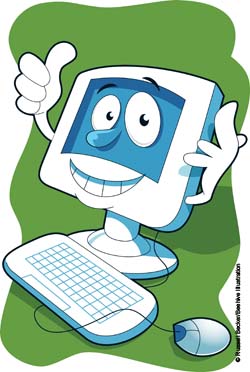 Free resources
Don't forget to download the free activity sheet, featuring an illustrated original poem, that accompanies these activities.
Poetry lends itself to a range of subjects and themes. ICT, for example, while full of technical instructions and hi-tech gadgetry, makes for a really creative poetry topic. How many times have we personified our PCs when things go wrong or claimed that they have a 'mind of their own' when 'the stupid thing won't do what its told'? Focusing poetry on ICT, specifically computers, can produce some highly amusing and creative writing from children – particularly because they can draw on their own technological experiences – many of which are far more extensive than the grown ups around them. Use the original poem on Activity sheet, 'http://computer-war-on-a-trojan.blog' and the version below, for the activities that follow.
Activities
1. A Trojan this way comes
Explain to the children that a 'Trojan', in computer language, isn't a virus, but what appears to be an innocent piece of software. It seems to do one thing, but actually does something mischievous instead. Once the service it offers is downloaded, it can cause problems or give the computer a virus.
Introduce the children to the Ancient Greek story of 'The Trojan horse'. A giant hollow wooden horse was left outside the gates of Troy. Believing it to be a gift, the Trojans dragged it inside their city. However, it was actually filled with their enemy's soldiers who emerged at midnight to kill the guards, open the gates to their army, and massacre the sleeping population.
Discuss the similarities between the story of 'The Trojan horse', and the tricks computer Trojans can play.
2. Computer says 'No'
Introduce the poem on Online activity sheet, 'http://computer-war-on-a-trojan.blog'. Ask the children to explore the problems the computer is experiencing, encouraging them to voice any difficulties they have encountered themselves when using a computer.
Use the opportunity to develop children's knowledge of computers, and their understanding of viruses and anti-virus protection. If any children have used a webcam, for example, encourage them to talk about their experiences.
Copy and paste the editable version of the poem (see below, not the online activity sheet) into word documents for the children to work on. Encourage the children to play around with the text, using different sizes and styles of font and highlighting computer words by making them bold or a different colour. They could also play around with the alignment of the text.
The computer in the poem is having trouble with 'Borders' and 'Frames'; challenge older or more

ICT

-savvy children to create different borders by experimenting with those available under 'Format' on the tool bar. When the children are happy with their new format they can print it as a poster.
3. i-computer
Explain that the poem, 'http://computer-war-on-a-trojan.blog', is in monologue form. Ask the children to imagine what it would feel like to be an inanimate object, or to imagine themselves as being inside a computer. What would they be able to see? Would they feel sorry for someone who doesn't understand computers? Or furious with someone who shouts at them?
Write ideas on the board, then invite the children to use them to produce a monologue poem. Children could develop it into the form of a letter from one computer to another.
4. Computer conversation
Ask the children to write a conversation poem for two or more voices. Encourage them to imagine themselves as a computer having a conversation with other computers. They may grumble about how bored they are or how they are worried about catching a virus. They might gossip about other computers nearby, or on their network; some might discuss the different people who use them.
Editable version of the poem:
A trojan's invaded!
My memory has faded!
My software's depleted,
And I'm feeling cheated!
I'm fearing the end.
My emails won't send,
And my internet link
Has gone on the blink.
I'm starting to dread it.
When I click on Edit
My page is selected,
But the trojan just wrecks it.
I can't save a file
Or change my font style.
My toolbar's on hold
And I can't print in bold.
No borders or frame,
No computerised games.
And my great Google™ page
Just will not engage.
This security scam
Has crashed my webcam.
My files are deleted!
I think I'm defeated.
My anti-virus protection
Can't fight this infection,
So I must employ
A Search and Destroy!
This trojan will know
His spyware must go.
I will win this war to debug.
But right now… I just need a HUG!
by Brenda Williams