Promote recycling with fun activities using empty food and drinks cans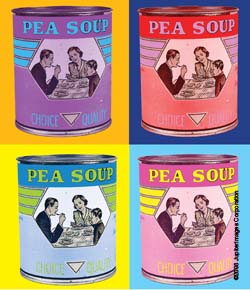 Extra activitiy
Don't forget to check out Activity sheet, 'Tin can desk tidy'.
Sturdier than plastic and cardboard, cans make a versatile D&T resource – although some preparatory work is necessary to ensure that they are safe for children to use. Choose food tins that open with a ring pull – or use a can opener that will not leave a jagged edge – and completely remove the lids. Wash thoroughly and leave to dry before applying a thin sausage of adhesive putty inside the rim. When set, cover with widths of strong tape. Be absolutely confident that all sharp edges are securely enclosed before asking children to work with any cans.
Don't forget, you can also download your free step-by-step activity sheet for an extra activity to make your own tin can desk tidy!
Activities
1 Andy Warhol can art
You will need: images of Andy Warhol's Campbell's Soup Cans; drawing materials; paper; acrylic or poster paints; food and/or drinks cans.
What to do:
1. Show the children images of Andy Warhol's Campbell's Soup Cans. Explain that Warhol chose soup cans as a subject matter because they were instantly recognisable. He made one picture of each soup flavour, and then displayed all 32 of them together as if the tins were on a supermarket shelf.
2. Discuss the techniques used by the artist. Explain that the work was created using synthetic polymer paint and Warhol used silk screen printing to reproduce many of his images to a consistent quality. Some of his work is also in pencil.
3. Decide whether to use a variety of different cans, ones made by the same company, or flavours of the same brand – such as pet food.
4. Tell your class to begin with observational drawings in pencil. They should concentrate on the dimensions and lettering in a series of quick sketches.
5. Next, provide each child with paper 20×16 inches (the dimensions of Warhol's canvasses) and ask them to make large drawings that can then be painted – ideally in acrylic or poster paints. Use a large display board to hang the entire class' work on.
2 Tin can wind chimes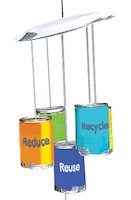 You will need: (per mobile) five baked bean-sized cans (treated with putty and duck tape to cover sharp edges); one sardine-sized can (also treated); bradawl; hammer; string; two paper plates; sticky tape; decorating materials; paper and pens.
What to do:
1. Visit www.wasteonline.org.uk/resources/InformationSheets/metals.htm to find some fascinating facts about metals and recycling.
2. Ask the children to choose the most interesting or bizarre fact and to write and illustrate the information on a flat piece of paper – long and wide enough to neatly cover an empty can.
3. Use a bradawl and hammer to make a central hole in the bottom of each baked bean-sized can, and side of the sardine-sized can. Thread pieces of string through four of the baked bean-sized cans and knot each securely on the inside (make sure the knot is big enough to not be pulled through).
4. Thread a longer piece of string through the fifth can. Make a knot half way to stop the can slipping off, then thread the remaining length through the side of the sardine-sized can. Tie a knot at the end to secure the sardine can. Cover each can with the children's work.
5. Make a hole in the middle of a paper plate and then create four more evenly spaced holes 3cms from the outer rim. Thread the string at the end of the bean and sardine cans through the central hole and secure. Thread the strings of the other cans into the other four holes so the tins knock against the middle of the central can.
6. Make two holes, 4cm apart, in the centre of another paper plate and loop string through to make a handle. Glue this plate on top of the first one to hide all the knots before decorating. Hang your wind chimes by an open window.