Paul Klee was a master with colour and is the perfect artist for teaching children about paint mixing
Paul Klee was born in Switzerland in 1879 into a musical family. As well as being an artist, he was a musician, writer, poet and a teacher at the Bauhaus, a revolutionary school of art and design in Germany. Klee is famous for his use of colour. He experimented with different painting techniques and painting on different materials, and is widely regarded as one of the founders of modernism. Examples of Klee's work can be seen by typing his name into Google Images. In this activity, children use Paul Klee's work as inspiration for their own art as they mix colours and experiment with painting.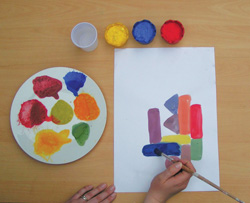 Getting inspired
Take the children for a walk in a local area where there are plants, trees and flowers. Alternatively, in the classroom make a collection of potted plants and colourful, cut flowers.
Explain to the children that you want them to focus on the colours they see in the plants and flowers. Ask questions to prompt thinking about colour and to develop language, such as Is there just one shade of green? Can you describe colours more precisely, for example orangey red, pale yellow, bluey green or bright pink? Does a particular colour look the same in the sun as in the shade?
Take close-up photographs of plants and flowers in a range of colours. Then, back in the classroom, look at the photographs on screen and talk about the colours and the children's preferences.
Tell the children that a famous artist called Paul Klee was very interested in colour. Show them examples of his abstract work, such as Castle and Sun, Fire in the Evening, Highway and Byways or Polyphony. Encourage the children to talk about the colours and shapes Klee used in these paintings.
Explain that as well as enjoying colours, Paul Klee liked to experiment in painting on different surfaces. Inform the children that you want them to also experiment in mixing colours and painting on different surfaces.
Step 1
Using powder paints, explain that red, yellow and blue are called the primary colours. Say that when two primary colours are mixed together they create a secondary colour.
Step 2
Ask the children what will happen if they mix red and yellow together. Involve them in mixing the colours with you, and vary the amount of each colour to create different oranges.
Step 3
Repeat the process, mixing red and blue in varying amounts. Talk about the differences in the colours, encouraging the children to observe carefully and be aware of changes in colour.
Step 4
Ask the children what will happen if blue and yellow are mixed together, and give them plenty of time to enjoy the experience. Remind them to wash their brushes between using different colours.
Step 5
Return to Paul Klee's works and encourage the children to look at the colours and shapes he used in his abstract paintings. Explain that the children will be creating their own work based on Klee's style.
Step 6
Inspired by Klee, let the children experiment in mixing vibrant colours and painting blocks of their chosen colours in simple shapes positioned close together.
Step 7
Try painting bright, multicoloured blocks of colour next to each other on alternative surfaces, such as rock or stones. Make sure you thoroughly wash the stones first.
Step 8
Experiment in painting on pieces of cardboard, fabric or blocks of wood (as in the example shown here). Talk about the different effects achieved.
Taking it further
Make a thick mixture of powder paint, water and

PVA

glue. Use this to paint blocks of colour onto plastic sheeting.
Help the children roll clay to a thickness of about 1cm. Cut out simple shapes such as rectangles, triangles and circles with a blunt knife or shape cutter. Leave the clay to dry thoroughly for a day or two. Then mix paints and paint the shapes. When dry, place the pieces together to create one larger piece of artwork that can be changed, rearranged and photographed over a period of days or weeks, as children experiment and talk about what they are doing.
Look at Fire in the Evening by Paul Klee and invite the children to use a paint package on the computer to create blocks of colour in a similar style. You could limit the palette used to just two primary colours, such as red and blue, and the secondary colour produced by mixing them together (purple).
Click here for more Inspire and create articles.