This audio poem, by the new Literacy Time PLUS Poet-in-residence, Paul Cookson, has musical accompaniment and some simple animation. The poem has a humorous football theme, a chorus, and great rhythm and rhyme, making it a perfect resource for this month's National Year of Reading theme – Rhythm and Rhyme.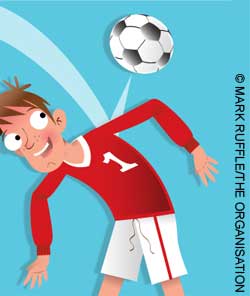 Shared learning and teaching
Before reading
Give groups words with different sound/spelling patterns and ask them to list as many rhymes as they can in three minutes. Feedback, and discuss spelling and rhyme.
Now, write 'sausages and beans' and 'butterflies and birds' on the board. Elicit that each phrase has the same rhythm – count out and clap the syllables. Give the children additional phrases and ask them to create others using a matching rhythm.
What words might we use when talking about a poem? Write these on the board.
Previous learning
Children will need to understand the language necessary to discuss poetry (rhyme, rhythm, verse, etc), and to have some awareness of performance, so drama exercises to promote clarity of voice may be useful.
Key learning outcomes:
Year 5
To group words according to spelling patterns;
To work in role;
To explore how writers use language for comic effects;
To write poems – edit/improve.
Year 6
To devise/assess performance;
To edit work on paper/screen;
To explore how writers create impact;
To integrate words/images/sounds, using

ICT

.
Shared reading
Explain that you are going to read/hear a poem written by Paul Cookson. Elicit the word 'poet'.
Listen to the audio recording and join in. Note that the poem has a chorus.
Responding
Identify the rhyme and rhythm used. Label the rhyming scheme: A,A,B,C,C,D. Does this continue throughout the poem? The scheme breaks down in the last verse. Why?
How does the poet inject the poem with action? Identify the variety of verbs in the text.
What might Paul Cookson's inspiration have been for this poem? Share the Paul Cookson interview (available from the Literacy Time

PLUS

website).
Think of comparable ideas for a poem in the same style as this one – eg, not being able to draw with your hand.
Group and independent activities
As a class, discuss the meaning of 'performance poetry'. In groups, prepare a performance of the poem. Rehearse and evaluate the performance as well as the group's ability to work together.
In pairs, write new poems in the same style, using original ideas or those discussed as a class. Use the same rhyming scheme or create a different one. Emphasize the need to find rhyming words that are not contrived. Pairs can read each other's work before editing.
Word-process the poems for display or use multimodal software to add animation or music.
Use the activity sheet to write a personal response to the poem.
Use the internet to research Paul Cookson. Find more of his poems and compare them.
Further reading
www.paulcooksonpoet.co.uk – Paul Cookson's official website I'd Rather Be A Footballer – The very best of Paul Cookson (Macmillan, 978 03304 57132). Brand new anthology. See our giveaways page for details of how you could win one of ten free copies in this month's Reader Offer. A sample poem from the book, 'The King of All the Dinosaurs', is available to download free from our website. Give Us A Goal Paul Cookson (Macmillan 978 03304 36540). Football poems. The July 2008 issue of Junior Education PLUS has a poetry theme, including activities on the theme of Rhythm and Rhyme, an article by Michael Rosen, a Powerpoint-format multimedia poetry resource and some cross-curricular ideas exploring poetic forms.
Drama
Work in pairs: one child in role as a footballer, John Luke; the other a journalist interviewing John about his selection for his country's team in the World Cup. The reporter is concerned the team will be at a disadvantage because of John's inability to kick the ball with his foot. John needs to prove his skills so the journalist does not give him a bad write-up.
Plenary
Share the group performances of Paul Cookson's poem – or the children's own poems. Discuss similarities and differences.
Add to the list of words which the children have used to talk about the poem.
Share personal responses to the poem. Would they like to read some more of Paul Cookson's poetry?