This recipe for Maid of Honour cakes – an example of an instruction text – is believed to date back to Tudor times. The information text panel could stimulate discussion and further research into whether the cakes originated in the court of Henry VIII or Elizabeth I.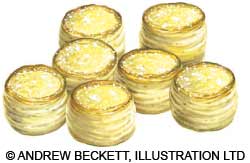 Shared teaching and learning
Before using the poster
Discuss the children's favourite recipes and TV chefs. What makes an effective recipe?
Demonstrate a simple recipe – eg, for rice crispy cakes. Ask a volunteer to give you instructions to make the same thing. Do exactly what they say – eg, if they say 'break an egg', do just that. Discuss the advantages and disadvantages of giving and following instructions communicated orally and how instructions need to be specific. Demonstrate writing the recipe, deciding on the most suitable language features – eg, the use of carefully chosen adjectives and adverbs.
Show a TV clip of a chef making a dish. Download the recipe from the programme's website and compare the differences.
Previous learning
Children should have experience of: using organisational features to find information; writing non-narrative texts, combining words/images/other features; using paragraphs to distinguish events/processes and using conjunctions for cohesion.
Sharing the poster
Devise a class checklist for writing effective instructions.
Use this to evaluate the Maid of Honour Cakes recipe. Identify its key features.
Give groups different instructions to 'test', including the poster recipe. Consider how easy they are to follow and why.
Focus on the whole poster. What other text type can you identify? Explain that this is a 'hybrid text' – it contains more than one text type.
Explore other hybrid texts. Establish the different text types and key features of each. Discuss why different text types are often combined in non-fiction texts.
Shared writing
Decide on a suitable purpose and audience for a hybrid text – eg, a letter to the king, apologising for a kitchen disaster, may require recount, explanation and persuasion! Model planning and writing the text. Discuss and analyse the range and choice of sentences and the effect these create. Demonstrate choosing and varying sentence structure for maximum interest and impact.
Key learning outcomes:
Year 5
To compare different non-fiction texts;
To write factual texts;
To adapt sentence construction to different text-types, purposes and readers.
Year 6
To appraise a text, deciding on its value, quality or usefulness;
To understand how writers create coherence;
To shape and organise texts coherently;
To use

ICT

to present text effectively and communicate information.
Group and independent activities
Ask the children to devise a new dish 'fit for a king'. They should first research typical Tudor dishes, then demonstrate how to cook the dish and provide a recipe to follow. Identify success criteria using the checklist from the shared session. At varying stages, use examples of children's work to model editing and evaluate in light of the success criteria. Use illustrations and graphics to support the written instructions.
Invite the class to perform their recipes in a TV cookery show-style. Video and evaluate performances.
Play a text type game. Provide cards with different text types on. The children select two at random then decide on a writing purpose and audience that require a hybrid of these two styles.
Explore planning and writing hybrid texts, possibly under

SAT

test conditions. Encourage use of the key features of the relevant text types and varied and appropriate sentence structures.
Use the

SAT

-style activity sheet below for

SAT

practice.
Plenary
Using response partners, ask the children to evaluate their written recipes, identifying where they have met the success criteria.
As a class, devise a 'How to write hybrid texts' poster.