Andrew Thraves previews a new scheme, coming to the UK this autumn, that could change the way schools support their children' development of literacy skills and which aims to give parents the tools they need to truly engage their child in reading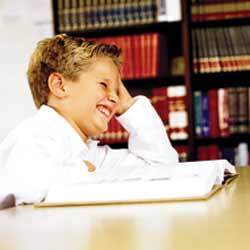 Daniel is what some might call a typical eight-year-old boy. He loves playing with his model aeroplanes, he enjoys spending time with his friends and his mum can sometimes find it a challenge to get him to eat all his vegetables at dinner time. Daniel has another thing in common with many boys of his age. He doesn't like reading.
So what is a Lexile measure?
The Lexile (L) system enables book titles to be matched with appropriate levels of reading ability, spanning from below 200L for beginners and starter texts to above 1700L for advanced readers and titles. Lexile measures are based on the semantic complexity (the level of the words used) and syntactic sophistication (how the words are written into sentences) of a text. They do not determine the appropriateness of a book for a particular reader – that decision remains with the teacher or parent, who will know best which themes and styles of language are most suitable for the child.
A Lexile map, offering a flavour of the kinds of books at each level of the Lexile scale, is available to download below or from www.gl-assessment.co.uk/lexile While the Lexile measure is not associated with specific school year groups or ages, this map includes UK year groups as a gauge of how Lexile measures compare with traditional age-based reading assessments.
The Lexile Framework for Reading™ will be available from Sept 2008 as part of GL Assessment's Progress in English (PIE) Digital Tests for seven- to 11-year-olds. For more information on Lexiles, visit www.gl-assessment.co.uk/lexile or tel 0845 6021937.
Understandably, Daniel's parents are keen to find ways to encourage their son to read more at home, as they know this will help improve his chances of doing well in school and prevent him from falling behind.
The Government's Children's Plan, published last year, states that all children have the potential to succeed and should go as far as their talents can take them. Every child reaching a good standard of literacy is key to this vision. Reading is essential to achievement across the curriculum, and poor literacy can have a real impact on a child's ability to reach their full potential right through, and beyond, their school years.
In December, more than 500 authors lobbied the Prime Minister citing official statistics which show that one in five 11-year-olds leaving primary school is unable to read to the minimum standard for the age group. And in this, the National Year of Reading, Education Secretary Ed Balls has called on parents to spend more time reading with their children to help build a greater passion for the pastime among children, families and adult learners alike.
Literacy tailored to the needs of every child
Personalised learning is now the bedrock of the British education system, with schools and teachers working hard to ensure lessons are tailored to meet the needs of their children so that no child is left behind.
It's possible that we could raise standards of childhood literacy in the UK by making reading more personalised for children, and engaging each child with books that are more closely matched to their individual reading ability so that they are not 'turned off' by reading.
Imagine what difference it would make to Daniel's confidence and progress in literacy if the books he was reading were ideally suited to his individual reading capability. And think how much easier it would be to get him reading more at home if Daniel's teachers could provide his parents with a list of books on aeroplanes, his all time favourite subject, tailored to his needs so that they challenged him as well as held his interest.
A reading scheme but not as we know it
Reading schemes have been an important part of our children's literacy journey in school, and there are almost as many different schemes and strategies for getting children to read as there are children.
Titles on the Lexiles map for Years 3/4 or Primary 3/4 children include:
470L | Henry and Mudge and the Happy Cat Cynthia Rylant 460L | Red Eyes at Night Michael Morpurgo 420L | King Midas and the Golden Touch Jenny Giles 410L | The Goalie from Nowhere Alan MacDonald 410L | The Enormous Crocodile Roald Dahl 380L | Horrid Henry's Classroom Cooties Francesca Simon 370L | My Friend Bear Jez Alborough 360L | Amelia Bedelia Goes Back to School Herman Parish 340L | Hairy Bears Celia Warren 310L | Curious George Goes Camping Margret and H A Rey
From September, GL Assessment is introducing The Lexile Framework for Reading™ to the UK, a new scheme that sets out to change the way schools support children' development of literacy skills and give parents the tools they need to truly engage their child in reading.
Schools will be able to offer children and their parents a recommended list of books that are ideally suited to each child's individual reading ability and interests, so literacy can become more personalised to raise achievement. Children's books could then be published with a new type of classification, called a Lexile measure, which is clearly visible on the cover and shows the level of difficulty of the text inside. This will transform the school library and give parents more information when they are choosing reading material for their children, so they can select books that will spark their child's interest in reading and encourage progress.
A new dawn for children's literacy
Poor literacy skills are a major barrier to learning and, if left unchecked, could reduce a child's chances of achieving to their full capability. With lessons becoming increasingly focused on the individual needs of each child, teachers are able to do more to encourage ongoing achievement as learning progresses and prevent their children from slipping through the net.
For now, Daniel is happy sharing a book on aeroplanes with his parents after dinner. Who knows where his new found interest in reading will take him in future?