Little Mouse's Big Book of Fears is crowned best picture book. Discover why Emily won and read reviews of all the shortlisted titles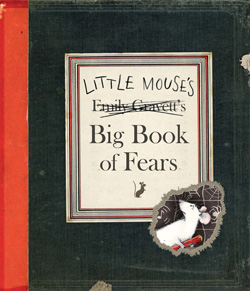 For the second time in three years, illustrator Emily Gravett has won the CILIP Kate Greenaway Medal, the UK's most prestigious award for children's book illustration.
Emily Gravett, whose debut picture book, Wolves won the 2005 CILIP Kate Greenaway Medal, today won the 2008 award for her fourth book, Little Mouse's Big Book of Fears, in which a small rodent confronts terrifying phobias, but eventually (and after much nervous nibbling) feels better when he realises that even human beings can be cowardy custards too.
Emily, a former traveller, spent eight years on the road after leaving school at 16 with almost no formal qualifications. She graduated from Brighton University's Illustration degree course in 2004, and her career as a picture book illustrator took off immediately when she won the 2004 Macmillan Prize for Illustration for Wolves. A publishing deal swiftly followed, along with enormous critical acclaim.
Of this year's winning book, Tricia Adams, Chair of the CILIP Kate Greenaway judging panel said: 'Every time you read Little Mouse's Big Book of Fears you discover something new: there's so much going on, so much to explore. The attention to detail is astounding. It's such a satisfying experience which incorporates smell, texture, humour and great imagination. The die-cut holes, and pull-out map are wonderfully novel features, but it's much more than just a novelty book: everything has a purpose and nothing is wasted. A book that not only works with lots of different age-groups, but also one that can be read, and re-read, and re-read again.'
---
The Kate Greenaway shortlist is often threaded with unexpected themes, and this year's selection, as Nicola Bevan discovers, is no exception
Banana! by Ed Vere (Puffin,
ISBN 9780141500591

)

Our youngest readers need bold beginnings, and Ed Vere's Banana! simply explodes with colour and vitality. One happy monkey, in blue stripes, is about to enjoy a delicious banana. No wonder his red-striped companion feels forlorn, envious and horribly ANGRY. Children will smile when the second monkey remembers The Magic Word – then gasp as he swipes the whole banana for himself. But don't despair. This hilarious tale is pure joy from start to friendly finish. And although the text could scarcely be more economical, Ed Vere's expressive pictures (those frantic fingers, those goggly eyes) really are worth a hundred words.
Monkey and Me by Emily Gravett (Macmillan Children's Books,
ISBN 9780230015838

)

Children love the cheerful heartbeat of rhythm and rhyme, and in Monkey and Me Emily Gravett captivates her readers with clap-along choruses and guessing-game actions. What will the little girl and her toy monkey see at the zoo? When they waddle, will it be penguins? When they bounce, could it be kangaroos? And what sort of animal is round the corner when our two friends dangle upside down?

Eloquent drawings scamper and tramp from cover to cover as the tale unfolds, while an uninvited teatime guest provides a satisfying twist. By the end of the book, children will be eager to imitate the little girl by miming or painting their own favourite animals – but look out for banana skins!
Penguin by Polly Dunbar (Walker Books,
ISBN 9781406312461

)

Polly Dunbar's Penguin will draw sympathy from any parent who has waited with growing frustration for that first smile, that first, astonishing word. This time, however, it is little Ben who desperately tries to provoke a reaction from the strangely silent Penguin.

Young readers will giggle as the frantic child sings, dances and pulls funny faces, while the annoying Penguin says NOTHING. Then horror! A blue lion appears and eats the noisy boy. Of course, it is Penguin who saves the day, and his gloriously pyrotechnic description of events is the best reward in the world.

Polly Dunbar's sympathetic artwork captures the seesaw of Ben's emotions with humour and an almost heartbreaking accuracy. As for Penguin – his baffled expression seems to say it all!
Silly Billy by Anthony Browne (Walker Books,
ISBN 9781406305760

)

In Silly Billy, Anthony Browne explores the age-old problem of night terrors. Familiar, harmless objects suddenly loom over Billy's bed, or haunt the shadowy corners of his room. Not surprisingly, the anxious child finds it hard to sleep!

Luckily, Grandma offers a comforting solution – a collection of tiny worry dolls who can snuggle under Billy's pillow and do all his fretting for him. But can they banish our hero's fears completely, or will he start to worry about his worry dolls instead?

Funny and gentle by turns, this helpful book should bring hope to young insomniacs everywhere, while also providing a brilliant idea for home-made birthday presents. As ever, Anthony Browne's meticulous pictures intrigue the eye and set the imagination spinning.
Ottoline and the Yellow Cat by Chris Riddell (Macmillan Children's Books,
ISBN 9781405050579

)

Ottoline and the Yellow Cat is a masterly tale of deception, daring and lost dogs, ingeniously devised by Chris Riddell. In Ottoline's odd universe, where towers look like pepper pots and polar bears steal socks, it is not unusual for a young child to be left at home by her adventurous parents.

Readers will relish the clever asides and detailed drawings, as the intricate plot unfolds. Can Mr Munroe (a hairy character from a Norwegian bog) ever win a coveted 'Who R U' certificate? Will Ottoline outwit the crafty Yellow Cat? And can Snarler McMurtagh ever turn his back on a life of crime?

This compact book is crammed to the covers with inventive ideas, proving Chris Riddell to be the Heath Robinson of the 21st century. See how many four-spouted teapots you can count; take a very close look at enormous Mrs Jansen-Smith, and don't miss your free pack of regal postcards. A total delight.
The Lost Happy Endings by Carol Ann Duffy, illustrated by Jane Ray (Bloomsbury,
ISBN 9780747579229

)

Combine the lyrical charm of Carol Ann Duffy's prose with Jane Ray's glowing pictures, and you'll enter the enchanted land of The Lost Happy Endings. Here, Jub shakes her precious sack of words into the violet evening air, until sentences flutter like moths or flicker like fireflies. But when scarves of mist circle her neck like a noose, even her deft six-fingered hands cannot save the Happy Endings.

Now, Cinderella's shoe won't fit; Snow White truly dies, and Red Riding Hood is eaten by the Big Bad Wolf. How can one small person save the Bedtime Stories and chase away the children's nightmares? Prepare for scares as Jub's own dreams come to the rescue… A magical, golden pen puts everything right, but also creates a ticklish puzzle. Who told the tale of the Wicked Witch? Was it Jub? Or was it the mysterious Story Teller who lives in the moonlit wood?
And the winner is…
Little Mouse's Big Book of Fears by Emily Gravett (Macmillan Children's Books,
ISBN 9781405089487

)

Emily Gravett's second shortlisted title, and the 2008 Kate Greenaway winner, is her mischievous 'self-help' study of phobias – Little Mouse's Big Book of Fears. This innovative book certainly has a well-used appearance. A hole has apparently been gnawed through its front cover; several pages have chewed edges, and even the Big Cheese Book Shop describes its condition as 'Poor, scribbled in, rodent damage.' Don't panic! Little Mouse will guide you safely past Ablutophobia (fear of bathing) and Phagophobia (fear of being eaten), all the way to Bibliophobia (fear of books). In the process, you'll read some scary newspaper cuttings – but you'll also have fun exploring complicated collages and an extremely mousy map of 'The Isle of Fright'.

Once you have finished, begin again – and see how many witty comments and doodles you missed the first time. With any luck you'll laugh so much, you'll finally conquer your own Musophobia (fear of mice).