Football unites and excites the world over. What other passion could have drawn tens of thousands of people to a cold and wet Moscow in May this year for a mere 90 minutes of entertainment? Andrea Carr of Rising Stars reveals how the kind of passion which drew all those fans to the UEFA Champions League final can be transferred to the literacy lesson, with fantastic results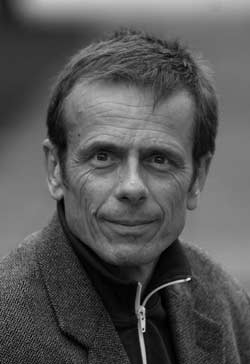 Shelby Town FC author, Tom Watt
Not every child loves football; some prefer martial arts, rugby or cricket. Some steer clear of sport altogether, preferring computer games or graphic novels. But there are an undeniably large number of children, both boys and girls, as well as adults whose lives seemingly revolve around the love of 'the game' (it is interesting to note that 'the game' always refers to football).
For these children, anything football related will be devoured – from magazines, football or sports websites with post-match analysis, to the sports pages of their parents' newspaper. Paradoxically these could very well be the same children who dislike reading in the classroom and who will do almost anything to avoid it.
Double Club English is suitable for Key Stages 2 and 3 and is published for Levels 3-4, Level 4 and Levels 4-5. For each set of levels there is a child book, a teacher's book and a CD ROM which enables the stories to be projected onto a whiteboard for whole-class work. For more information on , visit www.risingstars-uk.com or call 0871 4723010.
Double Club
Arsenal FC realised this in 1998 when they set up their football and educational club, Double Club, during which children have 45 minutes of football coaching and 45 minutes of literacy learning.
This then developed to include the teaching of subjects across the curriculum and is a formula which has been adopted by 14 other sports clubs across the country.
All resources are based on football, in an effort to fully engage reluctant and low ability learners. This means it is not just the reward of playing football that helps these children to succeed; it is the relevance of, and interest in, the football-based learning materials.
Into the classroom
"Football connects with the imagination in a way that nothing else does." Tom Watt
The successes achieved by by Arsenal FC and its fellow sports clubs can easily be transferred into mainstream literacy lessons.
Take a look at the kind of text extracts used to develop comprehension skills or understanding of grammar and punctuation. For a boy or girl who does not enjoy reading, the subject matter can often pose an instant barrier to learning. But try asking a child to punctuate some text correctly when the text has a football theme, and their engagement and motivation is rapidly improved.
Arsenal's search for stories
Although they had an existing plethora of non-fiction resources – including football programmes, information about the stadium and the club's players and so on – Arsenal FC wanted some football-based fiction. They approached Rising Stars.
Next to join the team was Tom Watt, the ghost writer of David Beckham's autobiography, presenter of BBC London's football coverage and a massive football fan. He wrote the story which runs through the three resulting books, Double Club English and which is supported by the English activities developed by Gill Howell, educational writer and consultant.
Tom's 'Soap opera-style' storylines are delivered through a range of text types – from letters and news stories, to diary entries and interviews. Each of these is printed on the left-hand page of each spread in the child's book, with reading comprehension, spelling, grammar and punctuation questions on the right.
"Writing about football is better than writing about normal English topics." Double Club member
Tom chose to the base the series on the real-life Premiership – but at the centre of his storylines is the fictional Shelby Town FC. Football fans can identify with the teams and players while not being put off by a rival team being the main attraction.
As we discovered in the making of these books, football lends itself to many literary genres which must be covered in English teaching: newspaper articles, narratives, commentaries, letters, website information, diary entries, programmes and lists and essays.
And when football is the theme, young fans can bring their own knowledge to their writing in these genres and everyday writing and comprehension activities immediately become more fun, appealing and relevant.
Why not give it a go in your classroom?