Helen Watts reviews a thrilling and thought-provoking new science fiction novel which will grip children, aged 9 and over, from the very first few pages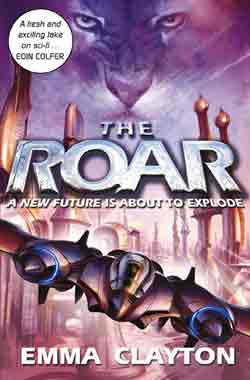 The Roar by Emma Clayton
(The Chicken House,
ISBN 978

-1905294633). For ages 9 and over

I have to confess, I'm not a huge fan of science fiction. I find so many stories in this genre either too far-fetched for my taste or too similar in plot line.
I wanted the book to be a like a big spoon of sugar hiding the most important medicine. This is a thriller, an action adventure, yet it has a serious message.

Emma Clayton
But there's an awful lot of noise being made by publishers Chicken House about The Roar – a brand new debut novel by Emma Clayton – and I couldn't resist discovering what all the fuss was about.
The story centres on 12-year old twins, Mika and Ellie. They live in a future behind a wall – safe from the plague animals beyond yet struggling to survive in cities so overcrowded that they have been built in layers, with the poor banished to the dark and damp depths at the lowest levels.
But then Ellie disappears and Mika is the only one who believes she is still alive. To find her he has to take part in a sinister virtual reality game in which he begins to discover that their concrete world is built on lies … lies spun by a government who, 30 years ago, conspired to save the planet, but only for a chosen few.
Click here to read the opening extract from The Roar.
While for adult science fiction fans The Roar may have echoes of films like The Matrix, and even Escape from New York, Emma Clayton has, without doubt, succeeded in creating a fantastic original story which is at once intriguing, gripping and thrilling.
Children will lap this up and be hungry for a sequel. Luckily, the author is already planning what happens next!