Stage a school production and develop children's team work and business skills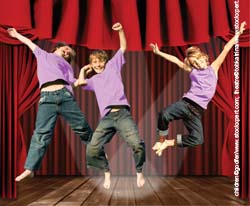 Putting on a school show is an ideal opportunity for developing team work, planning and enterprise skills in children
It's a common misconception that people who work in the arts are somehow less organised and efficient than those who work in business. But just stop and consider some of the skills used by those working in the theatre: the ability to work with others, understanding and meeting the needs of an audience, meeting deadlines, managing technology – all of which is often achieved with minuscule budgets.
The skills learned in taking part in a production are the sort of skills businesses spend a lot of time and money on trying to develop in their employees. And, they can be invaluable for learning, too. They're also really good skills children can apply to learning. There's no substitute either for the way in which a successful school production can build morale and help children, parents and the local community, to see the school, and themselves, in a positive light.
THE PROJECT
Step 1. Selecting the show
Involving children in the choice of production can help to develop speaking and listening skills and generate a lot of enthusiasm. Activities could include: reviewing past productions; producing a questionnaire of children and parent views; presenting the results of the questionnaire; researching what other schools have produced and then making recommendations.
Step 2. Planning the event
Explain to the children that good planning starts by keeping the end result in mind. A school production will initially involve two key factors:
Dates: What date do you have for the production? If this is not already planned into the school calendar, then ask the children to research and recommend suitable dates. Things to consider include conflicting or complementing with major public, local or other school events. Children will learn valuable planning skills by working backwards to find out how much time there is for rehearsals and by creating a schedule and timeline.
Budget: What budget do you have for the production? And how will it be distributed? Involving children with budgets provides good opportunities for them to develop spreadsheet and budgeting skills, as well as a good understanding of financial realities. Create a team to help manage the finances. Support from an adult is a good idea here, too.
Step 3. Designing the set
By this stage, children will have a good understanding of the aims, choice, date and size of the production. Time will be needed for children to get to know the script, songs and music, characters and key scenes, but once they do, they can start to consider their production's design. For example:
Set design: Ask the children to produce designs and models for each of the scenes suitable for their school stage. They will need to consider how easy or difficult their designs would be to create, move and store.
Publicity and marketing: Task the children with planning and producing posters and publicity campaigns, writing letters seeking sponsorship and help, and gaining the support of the local press and radio.
Wardrobe: As well as the design, children will also need to consider the accessibility of make up and costumes.
Miscellaneous: Other production design areas to consider include: lighting, sound and programme design.
Including children in the planning and undertaking of 'back stage' and technical tasks encourages those who don't want to take centre stage to still get involved. You can find lots of helpful ideas for production preparation at www.bbc.co.uk/northernireland/schools/4_11/sleepover The website is a complete toolkit which takes teachers and children, step by step, through the process of staging a school musical.
Step 4. Ahead of the show
More detailed production planning should start to take place two to three months before the production itself. Encourage children to consider:
Communication: Communicating with parents through letters or meetings will help build support and commitment. The children could create a production blog to post news of the show's progress on the school's website.
Auditions: Appointing understudies and sharing roles can help manage disappointments and provide contingency should someone fall ill.
Marketing: The publicity team will need to produce advertising, letters, tickets, posters, programmes, and to liaise with the local press.
Team work: Encourage the children to work in small teams. Those children performing in the production itself can still have a useful, if smaller, role in the planning side of things. When there are three to four weeks remaining, make sure the teams consider the following:

Managing the rehearsal schedule (technical and full dress).
Sourcing and creating props: choice of materials and construction, can your local community help provide these?
Sound: allowing time for setup and testing.
Wardrobe: fitting, production, storage, make up. Who will supervise the children's changing facilities?
Set: putting the design into practice, sourcing materials and construction. Children will enjoy working in lighting, sound and set construction, but they will need clear adult leadership and supervision – especially with regard to health and safety. Indeed, appropriate risk assessment should not be ignored.
Front of house: programme sales, ticket sales, raffle, refreshments.
Recording: making sure a team captures a good record in audio, video or photographs.
Step 5. Contingency plans
Put some planning time aside for the unexpected. Ask the children to consider such things as who will step in if key roles are ill? Or add a couple of blank rehearsal dates into your schedule should you need extra time. By allowing a little room for contingency, everyone is more likely to enjoy the process.
Step 6. Take a bow
Ask the children to plan and contribute to the after-show party. Celebrating the success will be a positive outcome for all children. And, don't forget to thank all those involved (other teachers, parents, and so on). You may find you need their help on next year's school production!