Inclusion is the practice of including all children in a school. Follow our brief guide to help familiarise yourself with the basic facts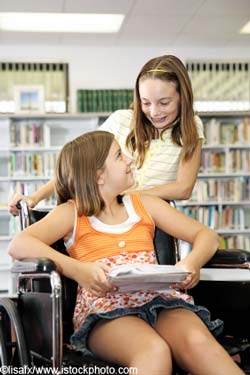 What you need to know
The idea of 'inclusion' is now firmly embedded within the

SEN

Code of Practice and the

SEN

Disability Act.
When children with

SEN

used to be 'integrated' into mainstream provision, they used to attend their local school if they could cope. Inclusion goes much further – they attend their local school 'because they are there'. Only if it is proved that their needs cannot be met might a more specialist placement be sought.
Inclusion is a journey and not a destination: each

LEA

differs in how far their policies have come along the road. However, they are all heading in the same direction.
How to help
If you are making use of extra adult support for a child with

SEN

, use careful joint planning to make sure that the child is fully included and has the chance to function as independently as possible.
Use educational labels rather than categories or medical labels, such as 'coordination difficulty' rather than 'dyspraxia', 'a child who has epilepsy', rather than 'epileptic' or 'child who has

SEN

' rather than 'SEN child'.
Provide good role models for the children because of your positive expectations and the way you respect and value the children.
Do all that you can to improve children's communication skills, for example, by teaching signing to everyone, or using a communication book to show how a severely disabled child makes their needs known.
Use teaching strategies that enable all children to join in the activities and to learn from them.
Plan individual approaches which are based on children' earlier experiences, which set high expectations, and which encourage the children to support each other.
Further information
The Index for Inclusion: Developing Learning and Participation in Schools is published by the

CSIE

(Centre for Studies on Inclusive Education), New Redland, Frenchay Campus, Coldharbour Lane, Frenchay, Bristol

BS16 1QU

. Tel 0117 328 4007. Visit Inclusion UK
Suggest some disability awareness and inclusion training for your school or cluster. For example, contact Disability Equality in Education: Unit GL, Leroy House, 436 Essex Road, London

N1 3QP

. Visit

DEE
Plan any extra support flexibly and creatively so that it promotes joining in and inclusion rather than creating barriers and exclusion.
Often, a teaching activity or lesson can be changed in some way to suit individual needs and you should never exclude certain children from it because they cannot 'fit in' with it.
Gather as much information as you can from parents about a child with disability. This will enable you to set high expectations and build on their strengths while supporting their weaknesses.
Sometimes parents might wish you to be very protective of their child; establish trust with them first and then work together to achieve a healthy balance between independence and protection.