How can we help young children learn to keep themselves safe as they explore their world, without worrying them unduly? Linda Mort explains…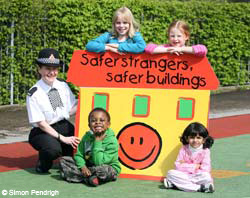 All parents and practitioners want to help children become resilient, capable and independent, and to keep themselves safe as they find out about the world they live in. A good starting-point is to explain how 'people who help us', for example, uniformed police officers, community support officers, traffic wardens, school-crossing patrol persons, shopkeepers and checkout assistants, can help children if they get lost.
'Young children are vulnerable. They develop resilience when their physical and psychological well-being is protected by adults'
(Early Years Foundation Stage: Principles into Practice: A Unique Child Keeping Safe, 1.3)
Greater Manchester Police's Youth and Community Liaison Officer, PC Helena Hodgson, has developed a very straightforward and positive message for young children, focusing on the theme of 'People who help us', into a new national child safety campaign entitled 'Safer strangers, safer buildings', which can be downloaded from Childs Eye Media
The campaign, based on Home Office guidance, helps children to identify trustworthy adults whom it would be safe to approach to ask for help if they get lost, and also the types of buildings they could go in to to ask for help.
Meet PC Helena Hodgson in the film 'Teigan gets lost' (taken from the DVD Keeping healthy Staying safe), which you can download free from Child's Eye Media
The engaging film shows six-year-old Teigan knowing what to do when she gets lost in a supermarket. It is a great stimulus for discussion, role play, small-world play and puppet play about getting lost.
5 top tips to help young children stay safe
1. Regularly reinforce the message of holding a grown-up's hand. Ask parents and carers to send in a card cut-out of their hand. Help the children to draw and cut out their own hand and to attach the two with a split pin at the top to make a 'hand in hand'. Sing the following words to the traditional tune of 'Here We Go Round the Mulberry Bush':
'Walking here and walking there! We love walking everywhere! Wherever we go, all over the land We always hold our grown-up's hand!'
2. Use the power of stories such as 'Getting Lost' from the book Feeling Happy, Feeling Safe by Michelle Elliott, Executive Director at Kidscape (Communications Directorate, Home Office), available from Kidscape. Make up stories with the children about 'safer strangers, safer buildings', for example, about how Teddy wandered off at the teddy bears' picnic.
Reader offer
Child's Eye Media has five copies of the Keeping healthy Staying safe DVD, which includes five short films, to give away to readers of Nursery Education PLUS. For your chance to win a copy, send your name and address on a postcard quoting 'Keeping healthy Staying safe' to Nursery Education PLUS, Villiers House, Clarendon Avenue, Leamington Spa CV32 5PR or enter online by returning to Magazines home, click on Nursery Education PLUS, then click on 'Giveaways'.
Draw will take place on 1 October 2008.
3. Invite the children to role play a shopping centre outdoors, with shop assistants in uniforms helping lost children. Alternatively, create a small-world indoor shopping centre using shoe boxes side-by-side under a table on the carpet area, and let the children use play people and finger puppets.
4. Contact your local police neighbourhood team to arrange a visit from a police officer or community support worker to talk to the children about the important things they can do to keep safe.
5. Encourage older children to memorise their home address and telephone number, and perhaps a parent's or carer's mobile number.