Allison Lee looks at training courses; explains what to do if you find your business is making a loss; and suggests some 'All about me' activities to enjoy at home
Expert advice
Training
All childminders in England and Wales have to complete a compulsory paediatric first-aid course. The National Childminding Association (NCMA) stipulates that a suitable first-aid course for childminders should be at least 12 hours long in order to successfully cover all aspects of accidents and emergencies.
In addition to this, childminders may wish to consider the following training courses:
Level 3 Diploma in Home-based Childcare.
National Vocational Qualifications (NVQs) can be studied in Care, Learning and Development.
Quality Assurance Schemes are a way for childminders to show prospective and existing customers that they are professionals and committed to their business.
Q&A
My business is making a loss – what can I do?
The amount you charge your customers must be competitive, however, it must also reflect the service you provide and cover the costs you incur. Your business may be suffering a loss for reasons such as:
a child may leave your setting suddenly and you have not had the chance to advertise the vacancy
a parent on maternity leave may have taken their existing children temporarily out of your care
you may have agreed to a reduction in fees for various reasons without realising the affect this could have on your income.
There are a number of things that you can do to increase the amount of money your business is making, for example:
extend the number of children you care for, but remember that employing an assistant to cover the child:adult ratio may outweigh the additional income increase your fees, but make sure that you are complying with your contract first and explain to parents why you need to charge more
try to reduce your costs such as taking the children to the park instead of a play gym, however it is essential that any cost-cutting activities do not affect the quality of the service that you provide
Activities
All about me
A book about me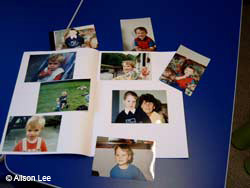 Make a scrapbook
Knowledge and Understanding of the World
What you need
Photographs of the children as babies and more recent ones; large scrapbook for each child.
What to do
Using the children's photographs of themselves at different ages, build up a 'history record' of each child's life from birth through to the present day. Include everything relevant to the child such as their favourite colour, food, friend, animal and so on, and encourage them to draw pictures of their different preferences. Leave some pages blank so the children can fill them in at home with the help of their parents.
My face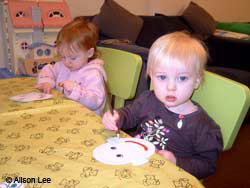 Make a face collage
Creative Development
What you need
Cardboard template of a face; string; wool; ribbon; sequins; buttons; crayons; child scissors; glue; gluesticks.
What to do
Invite the children to draw their face on a cardboard template. Encourage them to add details such as hair, eyes, a nose, mouth and ears using the collage materials provided. If the children struggle, suggest they draw their friend's face, or encourage them to look at themselves in a mirror to explore their features.