Fun activities to be used alongside the 'Daily routines' rhyme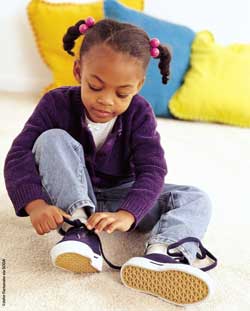 Knowledge and Understanding of the World
Time
Development matters
Remember and talk about significant events in their own experience (30-50 months)
Early learning goal
Find out about past and present events in their own lives, and in those of their families and other people they know.
What you need
Four large sheets of white paper; felt-tipped pens; card; two tables.
Preparation
Label one sheet of paper for each time period, 'morning', 'afternoon', 'evening', 'night' and divide each sheet of paper into six rectangles.
What to do
Read the Daily routines rhyme.
Discuss activities that the children enjoyed yesterday, reminding them of the date. What can they remember doing during each time period? Suggest that they make a picture display depicting these activities.
Show them the four labelled sheets and suggest that they all dictate one activity for each time period, and then illustrate each sentence using the felt-tipped pens.
Mix up the finished sheets and ask individual children to sequence them correctly.
Arrange the sequenced sheets across two tables and write 'Our day' on a stand-up card with the appropriate day and date alongside. Encourage the children to explore the pictures freely and practise sequencing them.
Discussion
Ask each child to think of a different activity. Is the activity something that they do daily, or is it specific to yesterday? As they suggest activities, reinforce the order of the time periods by talking about which one comes first, second and so on.
Support
Invite the children to draw a picture of the activity that they have enjoyed most during a session and display the pictures as a frieze.
Extension
Help the children to make a weekly diary, recording one activity each day. At the end of each daily session, invite a child to draw a picture of an important activity for that day and write a brief sentence underneath to describe the activity.