Read this great themed story, which draws on some heroic events from traditional tales, but shows heroism in a familiar setting and within an everyday event.
There are plenty of opportunities for children to infer characters' thoughts and feelings.
These teachers' notes accompany the PRINT ONLY guided reading leaflet.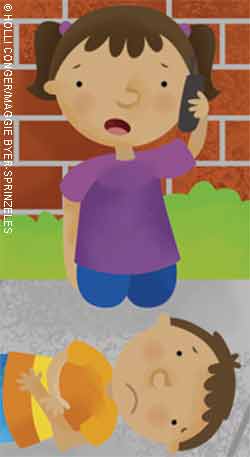 Before reading
Ask the children to identify some heroes and heroines from story books and films that they have read or seen, and to discuss the kind of things these people do that makes them heroes. List these actions and characteristics.
Discuss whether the children think there are heroes in real life. Who are they and what kinds of things do they do? Compare the two groups of heroes. Refer to On-screen resource 2 Real or imaginary? and Poster 2 A Real-life Hero
Explain that the story is about someone becoming a hero and ask the children to decide, as they read, who this is and why they were heroic.
Ask them to look out for other heroes, or stories about heroes, that are referred to in the leaflet. Explain that these people are not mentioned by name but the ideas are used and that they need to look closely at the pictures as well as reading the text.
Remind the children of the strategies they can use to read new or difficult words.
Model reading the first two sentences, showing the children how to blend all the way through longer words. Ask the children what is meant by 'lolling'.
Recap the common suffixes -ing and -ed and some grapheme choices for long vowel phonemes that the children find more difficult.
Together, blend 'daydreaming' and use sound buttons to identify each phoneme.
Previous learning
The children would benefit from knowing a range of traditional and fairy tales, such as Sleeping Beauty (see Leaflet 1), and from being able to recognise the hero or heroic events.
Reading the text
Ask the children to read the whole leaflet at their own pace. Listen to each child in turn.
Support each child in applying their blending skills. Encourage them to reread the whole sentence for sense if they struggle with several words in a sentence.
Support them to use expression and to change their voices as they read the speech bubbles.
Responding to the text
Acknowledge the children's individual successes reading the text.
Identify the key events in the story. Use the activity sheet below to help the children empathise with the characters at three key points. Use the ideas on the activity sheet to support thought-tracking.
Look back through the story and discuss these key questions.

Which hero and story was George daydreaming about?
Which hero and story was Rosa daydreaming about?
Why do they think George and Rosa were daydreaming about different roles and characters?
What do they think George was imagining when he said, "Never fear Rosa, I'll save you. Back! Back terrible beast!"
What do they think George was imagining when he said, "If I can cut these briars, I can rescue the princess."?

Discuss how Rosa felt about George, and help the children to find evidence in the story. Consider her feelings:

When they were going to the park;
When George had his accident.

Ask the children to identify the real hero in the story.
Why did Dad say George looked like he'd been fighting dragons?
Key learning outcomes:
To retell stories, ordering events;
To explore themes and characters through role play;
To act out stories, using voices for characters;
To identify main characters/events;
To make predictions.
Follow-up to guided reading
Find out about real-life heroes, such as Grace Darling and members of the emergency services (see Poster 2, A Real-life Hero).
Find out about simple First Aid. Learn what to do in an emergency and write some simple instructions – eg, in the case of a fire in school.
Use props and role play to act out heroic scenes from stories, or scenarios involving the emergency services.
Use the activity sheet to identify the story sequence.