It's not what it looks like… it's what it sounds like
28 August 2008
Add to My Folder
I know, from going round schools for nearly 20 years now, that teachers love poetry – even if they are not always confident about teaching it. They also love performances. But when it comes to 'performance poetry' there is sometimes a block or lack of confidence. Well, it doesn't have to be like this.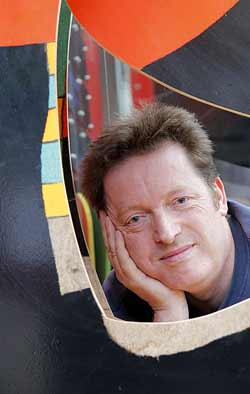 Firstly, I believe that anyone can write poetry. I wouldn't be in the job I'm in if I didn't. There are ways and means of enabling children, teachers and parents to write their own poems. And it's easy – honest! Trust me – I'm a poet!
Secondly, I believe that performance poetry is often the best way into poetry for many people. It doesn't rely on lots of text, metaphors, similes or poetic words – it's all about feel and sound.
Performance poet Ian McMillan once said to me that performance poetry is like ordinary language – but 'turned up' a bit. I think that sums it up really. Often the simpler the idea the better – the more potential.
What I will be doing both in this article, and in subsequent pieces to be published in Literacy Time PLUS throughout the coming year, is to show you ways into writing performance poetry with your children, and giving tips to encourage you to find ways of making performance poetry succeed for you.
My mantra is this:
IT'S
NOT WHAT IT LOOKS LIKE

,
IT'S
WHAT IT SOUNDS LIKE

.

I'll be repeating this from time to time so learn it now!

Paul Cookson is a Performance Poet who has written and compiled many popular poetry collections including Pants on Fire, The Truth About Teachers and I'd Rather Be a Footballer (all published by Macmillan).

For more information about Paul, his books and his performances and workshops in schools, visit his website at www.paulcooksonpoet.co.uk

Paul is happy to answer any questions that you have about performance poetry. You can also email him.

Download an exclusive interview with Paul here
More than reading out loud
In a moment we will be looking at an example of performance poetry, but there are a few things I want you to think about first. When performing poetry, it's not enough just to read the words out loud. That's a start … but it's not performance. We need to bear in mind:
Rhythm
Rhyme
Beat
Expression
Repetition
I believe that each poem has a voice that brings it to life. Our job is to try and find the best voice to do that. Sometimes that will be the voice of a child, a parent, a teacher or a character in the poem. Sometimes, the style and subject matter of a poem will necessitate a certain voice.
Paul says: This month's issue contains the first in my three-part Performance Poetry Workshop series, comprising a film taken from one of my whole-school poetry performances, which was for children from as young as four right up to age 11.
Here are some Teachers' Notes focusing on performing 'The King of All the Dinosaurs', which is also featured in the film, which look at how this poem can be used as a model for class poems.
Versatility
One of the great things about performance poetry is its versatility in relation to age groups. Many performance poems work equally well with Reception and Year 6 – simply because they are not about language and vocabulary, but about sound and feel.
One of my favourite performance poems ever is 'Mister Moore', written by my good friend and excellent performance poet David Harmer. Written down, it is very ordinary (and Dave won't mind me saying this), almost too simple – but out loud it is devastatingly effective and fantastic fun. It's a poem that I wish I'd written and a poem that has inspired many pieces I have written.
The crux of the poem is the line:
Uh uh eh eh uh Uh uh eh eh uh
Written down like that, the line looks nothing – it doesn't even look like poetry, but it's not what it looks like that's important, it's what it sounds like!
David wrote the poem about his old headmaster, Mr Moore, who never washed his one and only suit (after all, that is what male teachers do – buy one suit and make it last a whole teaching career!). As a result, it was all stiff and hard and looked like it was made of wood. Plus, he had great big old leather boots and the suit and boots used to creak down the corridor, which meant you could hear him before you could see him so you could run away and hide.
Now that you know that, try the above 'words' as a creaking sound – more
er – er – er – er – er …
and you're getting close.
You can download the complete text of Mister Moore from the Literacy Time PLUS website, accompanied by a fabulous illustration by David Parkins. Also from the website you can download a film of me performing 'Mister Moore' to a group of primary schoolchildren. Try it out with your class – or in a whole-school assembly – it's fantastic!
Have a go!
I think that the main thing with performance poetry is … have a go. Don't be frightened of getting it wrong as a teacher. There is no 'getting it wrong' as such. But only by performing the words out loud will you know how they feel and how they sound.
If you do this as a class exercise regularly, your children will get used to it and they will start to think in terms of performance. You – and they – will know if something doesn't quite work. They'll say, "It doesn't sound right", or "That line's too long", or "That word is difficult to say". You don't have to use words like syllables but that is what they'll be talking about. Try the lines and words in different ways and see what's best. But the important thing is … HAVE FUN!