Use these activity ideas along with the rhyme 'That's my face' to help the children learn about facial features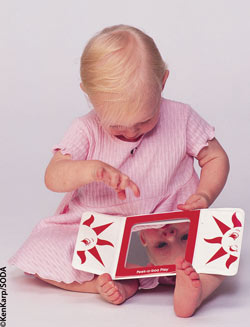 Creative Development
Exploring Media and Materials
Development matters
Differentiate marks and movement on paper
Early learning goal
Explore colour, texture, shape, form and space in two and three dimensions.
What you need
Safety mirrors; two framed portrait photographs; grey sugar paper; charcoal; chalks or pastels; scissors; glue sticks; fixative spray.
What to do
Listen and read the rhyme, That's my face, before supplying each child with a safety mirror to observe their reflections. Encourage them to concentrate on their faces, naming and describing the various parts.
Ask the children to use chalk and charcoal to draw large pictures of their faces on grey sugar paper. Show them how to blend colours by smudging with their fingers and create new colours by overlapping.
Show the children the portrait photographs and discuss how they are framed. Supply narrow strips of grey sugar paper and help the children to measure and cut them to the correct length to form frames around their portraits. Stick the frames to the portraits.
Once the children have left the room, spray the portraits with fixative (following the manufacturer's instructions).
Display the finished portraits and discuss them with the children.
Discussion
Focus the children's attention on their facial features, for example, by talking about the colour of their eyes, the shape of their noses and the length and texture of their hair. Talk about distinctive features such as freckles, hair ornaments or earrings. What sort of expressions will they draw on their faces? Compare a photograph with a drawing. Describe how each one is made and find similarities and differences with them.
Follow-up activity
Show the children two different self-portraits, painted by famous artists in the past, and explain that photographs were not available in those days. Compare and contrast the two portraits. You could start by identifying the various body parts. Then discuss the appearance of each portrait, for example, sex, age, physical attributes, clothing and hairstyle. Talk about the feelings conveyed by the portraits. What else can we tell about the people portrayed?
Support
Create a selection of ready-made cardboard frames for the children to choose from.
Extension
Encourage the children to create textured frames using collage materials such as buttons, sequins and seeds.