Find out what this important review on speech, language and communication difficulties means for your school.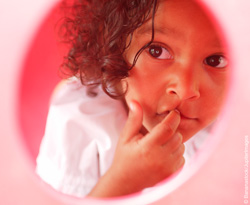 Research by Sir Jim Rose found that a child from a deprived home has heard on average just 13 million words by the age of four, compared to 45 million in a more affluent home.
Almost 60 percent of young offenders serving custodial sentences have problems with speech, language and communication.
Reading the above statistics, it would be fair to conclude that in England we have a problem posed by unaddressed speech and language difficulties, which has potentially far-reaching effects on achievement and social integration. Teachers have been aware of this for a long time, and many of those in nursery and reception years have reported this as a growing problem. It is estimated that approximately 7 per cent of five-year-olds, or nearly 40,000 children begin school in England with significant difficulties with speech and/or language.
Nearly 40,000 children begin school in England with significant difficulties with speech and/or language
Improving provision
John Bercow, MP, is also aware that there is a problem. Over the course of 15 months, he raised the subject of speech, language and communication services on more than 20 parliamentary occasions. As a result of his tenacity, John Bercow was invited by the Prime Minister, the Secretary of State for Children, Schools and Families, and the Secretary for State for Health to undertake a review of the provision for children and young people, who have speech, language and communications needs (SCLN).
He acknowledges that there is some excellent provision but it is far too patchy.
During the review, his team focused on key areas of:
The uneven provision of affordable specialist services
The co-operation of agencies to secure effective early intervention for young children with

SLCN

The identification and dissemination of good practice.
They collected evidence from organisations such as I CAN, Afasic and the Royal College of Speech and Language Therapists. They collated over 2000 responses to an online questionnaire and held ten consultation groups across the country.
Key recommendations
The resulting report makes 40 recommendations, all of which have been accepted by the Government. It has pledged £12 million to implement the recommendation (an implementation plan will be published this autumn) and a further £40 million to support speaking and listening in the early years. The key recommendations upon which the Government will focus are:
Raising the profile of

SLC

by creating a Communication Council and a Communication Champion to drive delivery of reforms and improve local performance
Having a National Year of Communication to help raise the profile of

SLC

issues
Training the workforce to improve early identification of children with

SLC

needs
Improving the information, support and advice that parents receive about children's communication
Setting up five pathfinders to identify best practice in the way that Primary Care Trusts and Local Authorities can work together
Commissioning research to find out how to improve the life chances of children with

SLCN

Asking Sir Jim Rose to examine how schools can better focus on

SLC

as part of his review of the primary curriculum.
Sir Jim will no doubt take into account the recommendations that there should be regular monitoring of children at important stage of their school lives in order to identify potential speech, language and communication problems; and that parents should be given regular information about their child's development and needs throughout their school life, extending the principle of the Personal Child Health Record.
The Bercow Review of Services for Children and Young People (0-19) With Speech, Language and Communication Needs was published in July 2008 is available at www.dcsf.gov.uk/bercowreview
Bercow also added: 'Many parents and professionals contributing to the review spoke of a "postcode lottery" in the availability of services. No two areas of the country commission and deliver the same level of services to children and young people with SLCN and this inconsistency rankled with parents. This is why one of our key recommendations is for a strong emphasis on performance monitoring in local areas.'