This filmed whole-school performance is the first in a three-part Performance Poetry Workshop by our Poet-in-residence, Paul Cookson, featuring his poem 'Mr Shadow's Shoes'. The audience ranged from four right through to 11, so the films can be used with any age group, but the subsequent workshops are differentiated by age.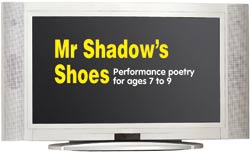 Poet's notes
When I was in a staffroom after a school visit where I had performed poems like 'Mister Moore', the staff started talking about teachers they used to have. One said that her old teacher sometimes got really, really mad. When he got really, really mad he shouted. If he shouted really, really loudly his false teeth would shoot out. I loved that cartoon image of the teeth shooting across the room and children ducking. The image stayed with me, and a couple of years later I wrote a poem about 'Mister Foster's Flying Teeth'.
Previous learning
Children should have experience of: interpreting texts by reading aloud with variety in pace, emphasis, intonation; listening to video and expressing views about how a poem is presented and why they like a performance; finding/using new and interesting words and phrases.
Key learning outcomes:
To prepare poems for performance (Year 3);
To discuss qualities of others' performances (Years 3/4);
To compose sentences using imaginative/descriptive vocabulary (Years 3/4);
To explore how writers use language to create images and atmosphere (Year 4);
To explore why and how writers write (Year 4).
Another said their teacher wore soft-soled shoes so he could creep up on you without you knowing. The phrase 'soft-soled shoes' appealed to me and I wanted to write a poem about him. The name Mr Shadow suited the character and worked sound-wise, too – Mr Shadow's soft-soled shoes. The alliteration sounded great and, because of his silent nature, the chorus came immediately:
Shush shush – left and right
Shush shush – out of sight
Speaking and listening
Every poem has a voice. When you read a poem, you have to find the right voice for it. Sometimes the voice reflects the character of the poem; sometimes it's loud and rhythmic, as in 'Mister Moore'. In 'Mr Shadow's Shoes' it's a quiet, whispering voice. Invite the children to repeat the chorus after me on the film, or to repeat each line after you say it. Then you can control the speed, rhythm and volume.
Using the activity sheet
Give the children a copy of the activity sheet below. Read through the verses five or six times as a class. Ask the children to think about:
the character in this poem
the rhythm and how it should be said
expression
tone of voice
the overall feel of the poem.
When you are familiar with the words, try different ways of performing the poem until you find the best one for you.
Resources
'Mr Shadow's Shoes' and 'Bouncy Mr Springer' appear in Paul Cookson's latest poetry collection I'd Rather Be a Footballer: The very best of Paul Cookson (Macmillan, 978 0330 457132).
The Very Best of Paul Cookson – A CD performed by Paul Cookson (Macmillan 978 0230 532052).
Hear Paul performing 'He Just Can't Kick It With His Foot' in On-screen resource 2 in Literacy Time PLUS Ages 9 to 11, July 2008.
Download the text for David Harmer's poem 'Mister Moore' PLUS a filmed performance and workshop by Paul from the Literacy Time PLUS website.
Shared writing
Try writing a simple performance poem. Ask the children to raise their hand if they have a brother, sister, stepbrother or stepsister.
Ask them to keep their hand up if this person really, really annoys them.
Ask the children to make a list of the annoying things they do, then pick a few and make a shared list – eg,
He/she comes in my room
Gets me into trouble
Eats my chocolate
Steals my stuff
Changes the TV channel in the middle of my favourite programme
Always gets his/her own way
Use a starting line like:
My brother (or sister) really annoys me
Add your list and end with the line
Yes, my brother (or sister) really, really, really annoys me
Get the children to read out their poems. They will probably find the right voice naturally – a whingy, whiny, exasperated and angry voice.
On a second reading, ask them to pace the words, exaggerate some phrases, maybe getting louder or angrier towards the end.