Shape poems provide the opportunity to focus on one subject in depth, using the senses, creating similes, and considering alliteration and powerful vocabulary. The results provide ideal material for display. This shape poem, by Moira Andrew, follows the patterns footprints might make in the snow. An actual footprint, perhaps from a wellington boot, would be useful for this lesson.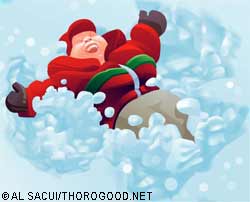 Shared learning and teaching
Before reading
List the different poetry forms the children know – eg, acrostic, nursery rhymes, alphabet poems, prayers or limericks. Can they define what a shape poem is?
Discuss the title. Why is trudging more effective than walking? Think of other synonyms for walking.
Shared reading
Read the poem and discuss how the author has created the shape. (The length of the words and their position.) Use a wellington to make footprints in sand or using paint.
Explain that footsteps is a compound word. Find other examples in the poem.
Identify the adjectives in the poem. Which adjectives would the children choose to describe snow to create the atmosphere of a snowy day?
Previous learning
Children should have some experience of different forms of poetry.
Key learning outcomes:
To identify the ways in which expressive language is used to create atmosphere;
To write effective poems using dventurous/imaginative vocabulary;
To read poems for enjoyment.
Discuss the use of punctuation. Has the author used full sentences? Are poems always written in sentences?
Challenge the children to find the simile in the poem. Ask them to create their own similes to describe snow, using either 'snow is like…' or 'snow is as __ as _'. Can they think of a simile to describe footsteps in mud?
Find an example of alliteration in the poem.
Which senses has the author used?
Discuss the phrase 'I love being first…' Why is it nice to be first to trudge through fresh snow? What other things do the children like being first to do?
Ask the children to suggest other subjects suitable for shape poems.
Identify what makes a good shape poem and list success criteria.
Further reading
Authors and Letters: Studying and responding to the work of Moira Andrew – On-screen resource 2, Literacy Time PLUS Ages 7 to 9, March 2008, Issue 58 Madtail, Miniwhale and Other Shape Poems chosen by Wes Magee (Puffin, 978 01403 40310). Word Whirls and other shape poems collected by John Foster (OUP, 978 01927 61880).
Shared writing
What do the children love about snow? Scribe their ideas inside the outline of a snowman ensuring that they fit in the shape. Can they create alliterative lines and similes? Highlight ineffective words and discuss more interesting alternatives. Evaluate your poem using your success criteria.
Group and individual work
In pairs, find adjectives with a meaning similar to cold. Arrange them in order on a picture of a thermometer. Repeat, using synonyms for hot.
In pairs, invent similes for thunder, snowflakes, icicles, raindrops, lightning and wind. Make a display.
What do the children love about going to the seaside? Create shape poems in wavy lines as sea waves.
Give each child the outline of a candle with a flame. Ask them to write what they love about birthdays inside the shape. Display as a birthday cake.
Use the activity sheet to plan poems in the shape of a dinosaur footprint. A large iguanodon footprint outline is available to download from the website. Remind the children to refer to their success criteria while they are writing.
How could an audience be made aware of a poem's shape when performing? Ask groups to prepare 'Trudging through the snow', or their own shape poems, for a performance.
Find out more about Moira Andrew and read some more of her poems.
Plenary
Share the shape poem performances and evaluate their success.
Read and discuss other shape poems. Which do the children particularly like?