This story comes from Alaska, and is told by the Tlingit people. In researching it, the writer Brett Dillingham asked for the blessing of Tlingit storytellers and Elders, including Marie Olsen of the Wooshkeetaan Eagle clan – an expert in the history and culture of the Tlingit.
The story illustrates her people's respect for the natural world, their belief in animal spirits and how they interact with the human world: it models their values, and the responsibilities within families for raising children.
These teachers' notes accompany the PRINT ONLY guided reading leaflet in Literacy Time PLUS Ages 7 to 9, September 2008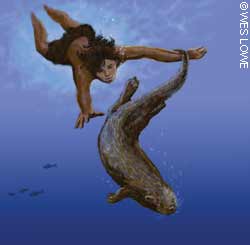 Before reading
Locate southern Alaska on a map.
Explain that the Tlingit are one of many different groups of Native American Indians, each with their own specific culture and stories.
Discuss oral storytelling, and relate to traditional stories that the children know from their culture.
During reading
Read the first paragraph. Discuss the message implied in the first line, and how it fits with our understanding of traditional stories. Establish the story's context and who is telling it.
Invite children to take turns reading, slowly and with expression. Ask them to imagine they are telling the story from memory.
Underline any similes (eg, 'twinkling eyes as big as raisins') and metaphors (eg, 'the soft arms of sleep began to encircle him'). Discuss how they convey atmosphere, setting and emotion.
Previous learning
Children will need an understanding of myths, legends and traditional tales: how they reflect the beliefs of the people who tell them, what their purpose is, and how they are passed down through the generations.
Key learning outcomes:
Year 3
To reflect on feelings, behaviour, relationships; To use drama strategies to explore issues; To write logically sequenced narratives.
Year 4
To tell stories effectively; To develop improvised scripts; To explain how writers use figurative and expressive language.
Use contextual clues to work out loon, halibut, and sculpin.
What makes the other boys nervous about Du Sani's behaviour? What have they been taught that he hasn't?
What emotions does Du Sani's uncle feel? What do they tell us about him? Identify the metaphor used for his broken heart ('His heart was a shattered stone in his chest').
Why does the Tlingit storyteller cry when telling of Du Sani's recovery?
Read the first and final paragraphs. Who learns from this tale?
Notice how the end of the story is laid out, with one line on its own and the last sentence broken, using two sets of ellipses. Try out effective ways of reading the ending.
List the time connectives, noting that they often start new paragraphs. Where paragraphs start without time connectives, decide why a new paragraph is necessary.
Responding
Discuss the lessons that the story teaches. Invent a set of rules to help Tlingit people stay safe, using the information in the story as a starting point. For example: respect birds and animals; don't go off on your own in a canoe; bring up your nephews properly. What rules could we use for staying safe in our society? What can we learn about differences in our cultures from these rules?
Hotseat some of the characters. Ask: Du Sani why he killed the Ugly Fish; the boys why they were worried about Du Sani; the uncle why he neglected Du Sani's education, and why he followed the land otter in the dream.
Learn the story sequence by heart. In groups, practise telling it with expression and gesture. Use the activity sheet below to evaluate performances.
Ask children to perform the story, adding appropriate sound effects and mime. Watch and evaluate performances.
Ideas for writing
Ask children to listen carefully to another group's oral version, and to write it down as if they were collecting it from an old Tlingit storyteller.
Write versions of the story as if told by Du Sani or his uncle, justifying their actions and behaviour, and explaining their mistakes.
Year 4 children could rewrite the story as a play script. Practise in a group and perform. Watch and evaluate constructively.
Use the

SAT

-style activity sheet below to deepen understanding of the text.
Research the climate and environment of Alaska and write a short information text.