Technical Development by Cambridge English Online Ltd
This exciting On-screen resource enables children to design and create their own newspaper front page. They are invited to write up three stories from a set of reporters' notes and quotes, choosing which story to lead with for their particular paper. They will also be asked to think up headlines, choose a photo, add a caption and byline.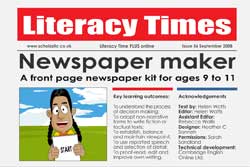 Before reading
Look at the instructions and identify the task.
Discuss the newspaper types, looking at their names and their potential readership before choosing your preferred type.
Explore the style, language choices and photographs which might be used, according to the different type of newspaper.
Decide how decisions will be made in each group – will there be an Editor or a voting system?
Discuss ground rules for agreeing on decisions. What happens if others do not agree?
Preparation
Before using the resource show a variety of newspapers to the children and discuss the differences between broadsheet and tabloid newspapers. Discuss the choices they could make in their own stories to alter the effect of their newspaper piece.
Previous learning
Children should be able to: summarise and shape material to write convincing non-narratives; choose/combine words and images; use WP packages.
During reading
Read through the three story quotes and notes. Decide, in groups, which story would be the best 'lead' or 'headline' story for the chosen newspaper. Discuss topicality and which issues would attract children.
In each story decide who the main characters are – eg, in the healthy dinner story the tokens are for parents.
Using skimming and scanning skills, answer key questions such as when and what happened.
Decide which facts are important and how these can be reported accurately, taking into account the different viewpoints.
Discuss the style of the story and how sentences need to convey the facts effectively and to fit the space available.
Writing activity
Choose an appropriate headline, or create one to fit the story.
Write the chosen articles in groups, sequencing the facts and developing the notes into sentences. Experiment with the organisation of paragraphs to achieve different effects.
Incorporate relevant quotes supporting the focus of the article, and include an appropriate photo and caption.
Then select the two shorter news stories, picking out key facts from the reporters' notes. Choose words carefully, select shorter quotes and consider using reported speech in order to make the best use of the space available.
Proof-read and edit work to check punctuation, style and clarity of information. Does the article appeal to the correct audience?
Using the activity sheet below, write notes for a topical school newspaper article, choosing a headline, captions, and style to appeal to the audience. Use an

ICT

program to add relevant photographs and captions.
Key learning outcomes:
To understand the process of decision-making;
To adapt non-narrative forms to write factual texts;
To establish balance and maintain viewpoint;
To use reported speech and selection of detail;
To proof-read, edit and improve writing.
Further reading
The July 2008 issue of Literacy Time PLUS Ages 7 to 9 (Issue 60) contained two versions of the same news story about a diamond theft – one in newspaper front page format, the other a television news broadcast. The issue is available to order from 0845 8504411.
Speaking and listening
Interview relevant figures/witnesses in school for the school newspaper article, framing questions so that What, Where, When, How, Why facts are identified. Record the interviews and choose the most effective quotations from them to support the article.
Plenary
Explore how the notes for the school newspaper article are written up as complete sentences. Model an example for the class to see, using key words and symbols.
Ask groups to present why they chose a particular story from the resource. Highlight why a chosen style, headline, slant, quote, or caption was selected to appeal to their readership.
Review how direct speech from interviews and quotations can be transformed into reported speech.