This poster is a recount, providing information about the French town of Lourdes where, it is alleged, miracle cures have taken place at a spring which was discovered after a local girl experienced a vision of the Virgin Mary. It can be used as a basis for exploring recounts and hybrid texts, and could also be used in cross-curricular RE studies looking at aspects of the Roman Catholic church.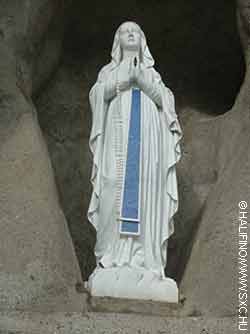 Shared teaching and learning
Shared reading
Read the title and first paragraph of 'Lourdes' and discuss what type of text this is (recount). Ask the children what they remember about this type of text from previous learning.
Read the rest of the poster. Identify the purpose and discuss how it has been organised. What tense is it written in and why?
Have any of the children been to Lourdes? Are they aware of any other stories about miraculous happenings or cures?
Can they identify other text types within the poster? (There are elements of non-chronological report writing.)
Previous learning
Children should have: experience of reading and writing recount texts; knowledge of hybrid texts; used ICT to produce documents.
Key learning outcomes:
To use evidence from across a text to explain events or ideas;
To compare the structure of different types of narrative and information texts;
To reflect on own writing, edit and improve it;
To adapt sentence construction to different text types, purposes and readers;
To use a range of

ICT

programs to present texts.
Shared writing
Provide examples of recounts. In pairs, ask children to highlight the key features and provide examples. As a class, construct a 'how to write recount texts' poster for use during the writing process (this could also form the basis of the success criteria).
Focus the group's attention on the use of paragraphs. Eg, why did the author start a new paragraph at 'However,' in the section 'Who was the 'lady in white'?'
Recap on reported speech, highlighting examples in the text.
Identify a character for a hotseat interview (an historical figure connected to topics studied, or you could use Bernadette Soubirous). Draw up a list of questions to ask the character, reminding the class that the questions should elicit as much information as possible.
Hotseat the character and model how to record the answers in note form. Establish a set of rules for effective questioning. Afterwards, discuss the key similarities/differences between oral and written recounts.
Explain to the children that they are going to write their own recount. Decide on an audience and purpose. Refer to your success criteria.
Demonstrate how to use the 'track changes' function to edit writing using the computer. Discuss how the changes improve the text.
National Year of Reading link
You Are What You Read monthly theme – celebrating and exploring cultural and personal identities.
Using the activity sheet activity sheet
Use the activity sheet below as a SAT-style comprehension activity.
Group activities
Ask groups to try interviewing someone 'in the hotseat' about a powerful or moving experience they have had. Use sound recording devices to support the note-taking.
Next, they can write up this account and edit their writing, tracking changes using a word-processing package. Encourage them to think carefully about the structure and style of their writing before they begin and remind them of the key features prompt sheet. Encourage them to consider how they will publish their recounts and to use different fonts, illustrations and colour where appropriate.
Ask a group to research other places of special religious significance, using the internet or reference books.
Plenary
Share examples of the children's work. Ask the class to identify the key features of recounts used and to evaluate their effectiveness.
Share what the children found out about other 'special places'.