Discover how orienteering can be a creative and inexpensive way of bringing numeracy to life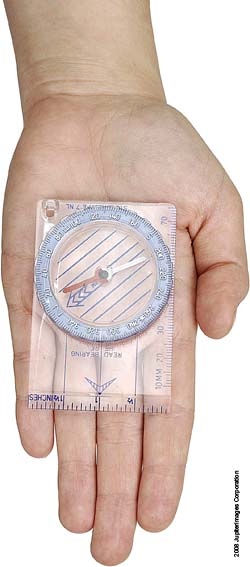 Getting lost is not a nice feeling. Your brain hits the panic button, you run around like a headless chicken and you get nowhere fast. Thank heavens for satellite navigation then. Where would we be without it? In some cases, not in the right place at all because even sat nav can get it wrong. In a world where everyone seems to get from A to B via computer, it could be argued that we have lost the ability to find our way in the world. This article gets back to basics with a look at orienteering and the life skill of being able to read a map while combining some important maths skills.
Orienteering combines four key ingredients: navigation, activity, decision making and of course – fun! It is also an Olympic sport in which orienteers use a map and compass to decide on a route to find a precise destination in the landscape, at which there is a control flag. The route between control sites is not specified, but left entirely up to the orienteer. The skill in wayfinding involves relating a map and compass to the environment and noticing features on the ground which can be sited on a map.
Activities
1. Exploring the unknown
Creating an orienteering course around your school will depend entirely on the space you have to play with. If space is tight, then rethink where might be a good alternative, a local park perhaps. For younger children, a simple school-based orienteering course is a great way of getting to know the school grounds better, especially at the start of a new academic year. Older children will have a different outlook. They are likely to have an intimate knowledge of their immediate environment if they have been at the school for a while. They may benefit, therefore, from being taken outside of their comfort zone, so that their ability to find their way relies more on reading a map, rather than their homing instincts. Establishing links with another school is an ideal way to swap environments for an afternoon and gives children the experience of orientating themselves in a new, but safe, context. This also helps children to confront the fear of the unknown. In fact, the term, orienteering, was first used by the Swedish military in 1886 to mean crossing unknown territory. To orienteer, first within the school grounds and then in other areas, will give you an opportunity to assess children's personal reactions, attitudes, and qualities in relation to their sense of place.
2. Map reading – the basics
The fundamental skill in orienteering is to orientate the map. Children will need support with this before racing off. Remember to give a clear demonstration about how to hold a map so that it corresponds to the terrain. This could be done simply before the lesson in the hall matching maps to PE apparatus or furniture. When outside, identify a control point and set the map. Run to the control together and check that everyone can orientate the map accurately. Use a distinctive feature to help match the map to the ground and remind children to keep their map set as they move. Explain to the children that orienteering courses are designed to be 50 per cent mental and 50 per cent physical. Most children forget this and let their competitive nature take over so will try to out race their peers physically. Speed can be important but navigational skills are more relevant.
'Orienteering fosters self confidence, problem solving, team building and a love of the outdoors'
3.
DIY

orienteering course

The first step in designing an orienteering course with a maths twist is to make ten to 15 control cards on coloured paper. The cards could be a mixture of maths questions or themed according to a specific topic. Mixed questions tend to work well as they cover more curriculum ground. These could be direct questions, multiple choice questions, odd-one-out questions or written as true-false statements. Control cards could also feature a letter of the alphabet that combine together to spell a maths word. (See Activity sheets 1, 'Outdoor maths: control cards' and 2, 'Outdoor maths: control cards – answers')

When you have made your cards, laminate them and place them around the school between knee and head height. They could be hole punched and tied to different objects. Professional orienteering is usually undertaken on an individual basis, but the opportunities for working in teams should be maximised. Give each team a map with each control point shown as a number in a circle. Teams then take turns to locate control points either at timed intervals or in a different order to each other. Another way to do this would be to set a time limit for the children to complete the course, for example in ten minutes. The idea here is to hold a mass start, where children visit as many control points as possible, in any order, with penalty points deducted for late arrival. You will also need to decide on how points will be awarded (for course completion, correct answers and discovering the maths word from the letters collected). In all versions, children will need to record their answers, and in the second version, total their points.
4. More maths and maps
There are many opportunities for milking the maths when orienteering beyond answering control cards. You could draw playground maps to scale; test that the most direct route is not the quickest; discuss rotation; estimate distance; subtract start times from finish times; put times in the correct order; estimate direction in degrees, and so on.
Orienteering is a sport of physical and mental challenges that fosters self confidence, problem solving, team building and a love of the outdoors. After you have had a go at creating an orienteering course for your class, set children the task of designing their own for other classes to try.