Cross-curricular case study: Are you sitting comfortably?
22 August 2008
Add to My Folder
Holding a chairs week can be more fun than you think…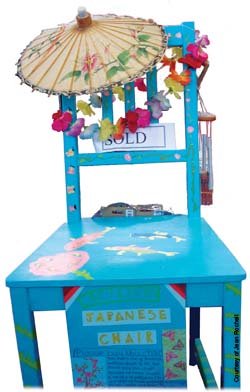 Chairs – we sit on them everyday – in the classroom, the car and at home. Such an everyday object can provide a focus for some brilliantly engaging cross-curricular activities, as Year 6 children from Bywell Church of England C Junior School found out…
'From model making to maths… the week was packed full of exciting activities'
'Last year, Junior Ed PLUS ran a visual literacy article using a common chair to stimulate imaginative writing (Sept '07). This sparked instant inspiration. The article, Ode to a chair, outlined activities for literacy, which I wanted to do with my Year 6 group. After looking through the article, the Year 6 team thought it would be good to see if we could come up with other subject ideas. A few months down the line, we held a very successful chairs week that encompassed all areas of the curriculum. From model making to maths, and poetry to painting – the week was packed full of exciting activities!
We have 90 children in Year 6, so we kept hairs-themed literacy and numeracy lessons to ability groups in the morning; while the afternoon sessions saw the children break off into groups of six. (It was really apparent that the children were delighted not to hear the dreaded 'SATs' word all week!) The afternoon lessons were divided into a three-way rotation of 45 minutes that incorporated creative sessions on design, ICT and art.
Seating plans
We wanted the children to not only improve their creative writing and literacy skills in general, but to have the opportunity to explore lots of different subjects through one theme. In maths, for example, we found we had ample ideas to really get the children thinking. They looked at seating plans in aeroplanes and theatres and used calculation skills to work out the number of seats based on different scenarios. They were also given a set of 12 problem-solving questions to work out, based on weight, cost and quantity, for example.
Best bits
The highlight of the week, however, had to be the assembling, painting, decorating and selling of chairs. Ikea, SigmaKalon and Tesco donated 15 chairs, paint, brushes, primer and vouchers that meant the children could design and make a real chair for a particular purpose. They learned to read instructions, use tools, think about design and use art and craft skills to decorate their chairs. The children got really involved with the process. It was practical and allowed them to get stuck into something that would create an end product – something they could use or sell.
The children had to display their chairs as if they were in a shop window, so they put real effort into making them look eye catching and fun. At the end of the week, parents were invited into school to see the displays and to buy the chairs. As a result, the children raised more than £200 that they will now use to plan their end-of-year activities.
Thinking ahead
The week was a real success – for both the children and staff. Parents got to see what their children did during the week and the local press ran a story about it. It was so successful, we're now thinking about what theme to plan next!'
Subscribers can use our PowerPoint presentation on chairs to help spark creative thinking in the classroom.
Have you had a particularly exciting or successful lesson? Tell us about it and it could make it into Junior Ed PLUS!