If you lack confidence when delivering assemblies or have never done one before, then here's three plans for you!
Assembly 1
Focus
To appreciate and reflect on the world and to begin to understand how we must take care of it and take responsibility.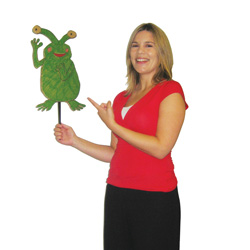 You will need
An image of an alien or a suitable prop, such as a Doctor Who magazine or alien mask; images of the world, to support opening questions.
Opening
Begin by telling the children the following amazing facts about our world. Say, Did you know that from space our planet looks blue? Did you know that our planet travels through space at about 67,000 miles per hour? That the fastest flying bird in the world is the Peregrine Falcon? That there are 6.7 billion people living on our planet? That there are ten million species of life on Earth?
Talk about how these are only some of the amazing facts about our planet and sometimes we can forget just how brilliant the Earth really is! Explain that we are still finding out new things about the world all the time, but how we treat the planet is also important.
Development
Encourage the children to think about what they like most about our planet. What is their favourite flower? Ask them to tell the person on their right. What is their favourite animal? Ask them to tell the person on their left. What else do they like about our planet? Discuss how everybody likes different things and that with so much variety in the world, it's important to look after it.
Pick up the alien picture or prop. If you have a mask and are feeling brave, you could pretend to be an alien visiting the planet. Then ask the children, If an alien came to Earth, what would be the first thing you would tell them about the planet? Why? Would you talk to them about your favourite animal or flower? If the alien wanted to live on Earth, how would you advise them to treat it? Discuss points such as dropping litter and vandalism, and how they affect the planet. Explain that litter doesn't just affect people, it hurts animals too. Are the children aware that our actions can affect other people and the planet? Can they think of any examples? Talk about their answers and, as a group, conclude that our planet is precious and we must take care of it.
Reflection
Ask the children to think about how they treat our amazing planet. Can they think about all the great things on Earth and be thankful for them? Stress that it is everyone's job to respect the planet, yet sometimes we may take it for granted. End by saying that we should remember what an amazing place our planet is and why we should take care of it.
---
Assembly 2
Focus
Beauty is on the inside.
You will need
The story of Beauty and the Beast, with pictures if possible; dressing-up box filled with various items such as hats, scarves, gloves, and so on.
Opening
Open up the dressing-up box, take out an item and put it on. How do the children think you look? Delve in deeper into the box and put on several items, such as a hat, necklace, lipstick, and so on. Ask the children that even though you are dressing up, are you still the same person? Invite a willing child up to the front and dress them up. Inquire if they are still the same child underneath the clothes. Have they changed who they are, just because they look a little different? Explain that some items can make you look better and some can make you look worse, but you are still the same person underneath it all!
Development
Discuss how the children all had different ideas about which items from the dressing-up box made you look better and which items made you look worse. Say that everyone has a different opinion of beauty, and some people like some things, while other people don't. Stress that no matter what people look like, everyone is beautiful in their own way and it's what's on the inside that counts.
Tell the children that you are going to read a story about inside (or inner) beauty. They should listen carefully to see if they can discover who the person in the story is. Read out the story of Beauty and the Beast, using the pictures to show the children as you read.
Reflection
Ask the children how the Beast must have felt in the story before Beauty came. Why did Beauty fall in love with the Beast? Elicit the answer that she could see how beautiful he was on the inside. Discuss that no matter what anyone looks like, what they wear or what they don't wear, it's how they behave and treat other people that's important.
Explain that we can all do beautiful things, like being kind to each other and helping each other out. And when we do these beautiful things, like showing people we care, we also make other people feel beautiful too! Challenge the children to think about how they can show their beauty that's on the inside today.
---
Assembly 3
Focus
Don't be afraid to use your talents.
You will need
Selection of torches; a large piece of black card; blanket; bowl; Bible reading Matthew 5:14-16; recording of This Little Light of Mine by Harry Dixon Loes.
Opening
Ask if there are any children who are having piano lessons or learning another musical instrument. Encourage the children to raise their hands if they are good at addition, running, drawing, and so on. Then explain that everybody has a special talent for something, be it playing the piano, catching a ball or being a good friend. Why do the children think some people don't like to show their talents? Challenge them to think about times when they have hidden their talents – was anyone hiding their talents just now, to your questions?
Why are we sometimes afraid to say that we are good at something? Explain that Jesus used the phrase 'Don't hide your light', to encourage people to act on their talents and not be afraid of how others would react. If appropriate, you may like to read the passage from Matthew 5:14-16.
Development
Invite a child who has been particularly receptive to the opening questions to pick one of the torches. What could a torch be used for? To show people the way on a dark night, perhaps? Explain that all the torches you have brought in do exactly the same thing.
Switch off the lights and try out the torch. If the room is particularly light, shine the torch on the black card so that the children can see the light. Put the blanket over the torch, and ask the children if they can still see the light. Put the torch under the bowl, and ask the children if this would guide the way on a dark night. Confirm that the only way to use the torch is to switch it on and let it shine brightly.
Reflection
Ask the children to think about the 'torches' they have inside them – the special talents that they sometimes hide. Perhaps they feel a little embarrassed about being good at something? Maybe they might not do their best sometimes because they are afraid how others will react? Explain that by doing this, they are putting a blanket over their light and not letting it shine. How can they show people the way if they are hiding their lights? Remind the children of the torch and how it lit up the area around it, and encourage them to think about how they can light up those around them. Play This Little Light of Mine and pass the torches around the children, making sure everyone gets a chance to shine a light.