Celebrate identity with this month's National Year of Reading theme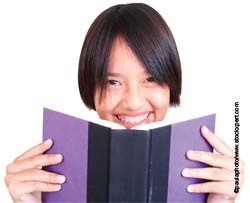 This month's National Year of Reading theme, 'You are what you read', is ideal for welcoming children back to school. Focusing on identity, it provides opportunities for discovering the vibrant cultures and social groups that make up your school. It also helps to throw open the school gates to the wider community, exploring local history, heroes and heroines.
Activities
1. Back in my day
Arrange for the children to visit their local library, or if this isn't possible, look at some local history websites. Ask the children to research local historic events, festivals, carnivals, important residents, and so on. Once they have read a variety of different stories, invite them to write a diary extract based on one particular event or resident. Encourage them to incorporate all the senses in recalling the past – the sights, the smells and the sounds.
2. Modern-day saint
Read a story about the Patron Saint of your country. Create a thought shower on the whiteboard with the main story components, for example, hero (saint), baddy (dragon), setting (castle), other characters (king, queen, villagers, and so on). Challenge the children to come up with modern-day equivalents for each feature and write a contemporary version of events. For example, 'Big G' could help rid a neighbourhood of a fiery teenager who goes around causing mischief.
3. Famous faces
Research famous people who were born in your town or village. Then invite the children to compile a fact file of information on that person. They could include their name, date of birth and achievements.
4. Family stories
Ask the children to thought shower their own, and their family's, interests and hobbies. They might include sports, clubs, outings, favourite TV shows or meals, and so on. Tell the children to use one or more of these ideas as a basis for their own short story, encouraging them to add humour and creativity. Get the children to write up their story on folded paper to create a book, complete with front cover and illustrations. Finished books can then be taken home and shared aloud with their family.
5. Character poems
Invite the children to choose book characters from their favourite stories who they think are similar to themselves. Once the children have a list of characters in mind, ask them to write a poem, explaining the reasons for their choices. For example:

Just like Matilda, I love reading books

But I'm also like Ottoline, I love chasing crooks.

Sometimes I'm scruffy, like Mr Gum

And like Horrid Henry, I love to have fun.

6. My favourite kind of reading
Create an 'I love reading' display in your classroom, library or entrance hall. Ask children to write down something about their reading habits on a piece of coloured card shaped like a book. Encourage them to think about what, or where, they like reading, for example: 'I love curling up with a book and my cat'; 'I love reading in the car' or 'I love flicking through my comics'.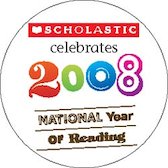 National Year of Reading
Find out more at www.yearofreading.org