Have you ever wondered what goes on in classrooms around the world? Take a peek with our exclusive article
As a new school term begins, children all over the world will be settling into their new classrooms and getting ready to learn. And, as the world becomes more multicultural, so the learning differences from country to country become less apparent. Often, lessons taught in Liverpool or The Hague are just as likely to be taught in Toulouse or Melbourne. As we become more global, the hope is that learning will become more internationally minded. Many of the issues children are discussing are the same, just presented in a different context. This enables children from all nationalities to understand, accept and embrace their differences, as well as their similarities.
The International Primary Curriculum (IPC) is a curriculum that is used the world over. Taught in 50 different countries, including the UK, it was designed without any single education system in mind, but was more focused on developing great learning in any school, anywhere. IPC's focus on international mindedness is helping children around the globe to understand and value that we are all citizens of one world.
Piasau International School, Miri, Malaysia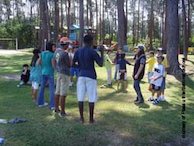 Number of children in class: 19
IPC

unit: Health – Fit for life
Teacher: Miss Alex
Last spring we studied Health – Fit for Life. As part of the unit the children were asked to interview their parents about group games they played when they were at primary school. The children then wrote a set of instructions for one of these games and each child taught their game to the class. The class agreed a set of criteria for evaluating the games which included health, fitness, participation opportunities and accessibility (for example, can girls and boys play together, do you need particular equipment, do you need special skills). They then evaluated each activity based on these criteria. We talked about why some of these games might have become popular and why they would have appealed to their parents and whether it might become a game that could become popular now.
Working together
The next phase required the children to work in small groups with people they would not normally work with. Collaboratively they created a game that was an amalgamation of each of the games their respective parents had taught them, the focus being on accessibility. The class then voted on the most 'fun' game that was then to be introduced during playtimes to other children in the school. This game became something that children from different classes played together, fostering new friendships in the process.
SJI

International School, Singapore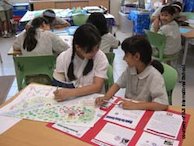 Number of children in class: 18
IPC

unit: Community
Teacher: Mrs Wignall
From day one of our new school, it was very apparent that my class had arrived from very diverse backgrounds. Taking the IPC Community Unit appeared to be the ideal focus for our pioneering, multi-age, multi-nationality junior class. We quickly learned that our children belonged to many different communities, ranging from a Zoroastrian community to a family community in Southern Yemen. Some students arrived from schools that encouraged group work and discussion, and some from a more formal setting with a strong focus on discipline and independent work. The mix was fascinating and both experiences were discussed along with the various merits of both systems.
We started our collaborative learning on a small scale. The children shared individual assignments about their home countries with other students on a one-to-one basis. Then, in groups of three, the children researched and created posters about the history of Singapore.
Creating a Utopia
The highlight of the unit was when the children, in groups of four, developed their own Utopias. This included mind mapping their perfect community, creating the front page of 'The Utopia Daily News' and writing newspaper stories about their community – all good news of course! In their groups, the children also created a detailed map of their Utopia, devised a National Day to celebrate it, and then worked to save their Utopia from a threat (these varied from war to famine to a tsunami). The engagement of the children was tremendous and their presentations displayed new levels of enthusiasm. As a result, the class had become a cohesive unit despite differences in age, background and nationality.
Emirates International School, Dubai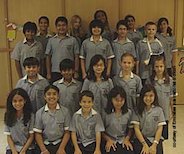 Number of children in class: 24
IPC

unit: What Price Progress?
Teacher: Mrs Bamford
In the spring term last year, Grade 6 studied the IPC unit What Price Progress? This is all about technology and its impact, good and bad, on the world we live in. As we live in Dubai – one of the world's fastest developing countries – this seemed an important element to focus on. As part of the theme, we organised an overnight camp. The idea was for the children to live without as much technology as possible for 24 hours. We wanted to give them a sense of what life would be like without all the trappings of modern life and only themselves and each other to rely on.
Doing it for yourself
The event took place on the school field with the children camping in tents that they erected themselves. They thoroughly enjoyed the camaraderie of putting up their own tents and choosing, not only who they were going to share with, but also creating male and female communities on the field. The food was cold: bread, cheese and apples for our evening meal and cold milk and fruit for breakfast. They organised themselves into large mixed groups and set about making up games to play. The unit really helped children to create new friendships and strengthen old ones.
British School of Houston,
USA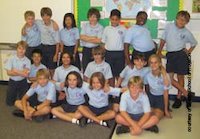 Number of children in class: 18
IPC

unit: The Holiday Show
Teacher: Miss Yeardley
Last summer term, the IPC theme we studied was The Holiday Show. This was a wonderful unit to study as the very nature of an international school lends itself perfectly to the theme of travel. The topic provided many opportunities to highlight the links between different countries and cultures.
As part of the unit, we held a 'town meeting' to discuss the proposed development of a hotel complex on the Gulf Coast. The children attended a 'press conference', led by myself, and were split into groups and given a role to play at the town meeting.
Points of view
Midway through the preparation time, the children took it upon themselves to move around the classroom. Preparing myself for every teacher's nightmare, I asked them what on earth they were doing! They calmly informed me that: 'The groups on both sides should work together to make the most convincing arguments.' This is very typical behaviour of a class who thrive on team work and challenging each other.
When we came to review the lesson, the children felt that they had learned a great deal about the far-reaching impacts of tourism. The roles they adopted in the town meeting had enabled them to see events from other people's points of view and they particularly enjoyed this aspect of the work.
The International School of The Hague, The Netherlands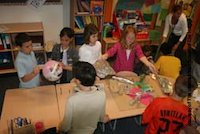 Number of children in class: 21
IPC

unit: Mission to Mars and Beyond
Teacher: Miss Kehoe
We studied the Unit Mission to Mars and Beyond in the summer. We went to the Space Expo – the visitor centre for the European Space Agency and the children researched life on Mars. They looked at what is needed for successful plant growth, what sorts of materials would be suitable to build a shelter from and what kind of energy sources could be used. In groups, the children began to design and create a 3D model of a space station.
Let's converse
The children discovered how challenging group work can be and the most important aspect of this project ended up being communication. Every member of the group had to agree on a decision before anyone was allowed to move on. This resulted in a lot of idea sharing and the groups combined their thoughts to come up with better ideas than originally planned. I was also very happy to see how hard children worked to explain the project to other children without English as their first language. Sometimes these children can feel left out of group projects. This activity, however, emphasised the need for patience and understanding. This helped everyone to work to their maximum capabilities and to feel that their efforts had been valued.
Online extras!
We got in contact with four international schools that follow the IPC. They agreed to share projects they have taught that help children to develop an understanding of themselves and of those around them, locally and globally.
The four schools have recorded a short video or image movie of a typical 'day in the life of' that you can show to your class. You can also share facts about the international schools by handing out Activity sheets 1-5, 'Our school'. You could take this theme further by focusing on a particular country and its climate, population and culture.