As a special introduction to our new Performance Poetry Workshop series by Literacy Time PLUS Poet-in-residence, Paul Cookson, we're giving you this FREE film of Paul performing David Harmer's 'Mister Moore'. PLUS, download the text of the poem to try it out yourselves in class.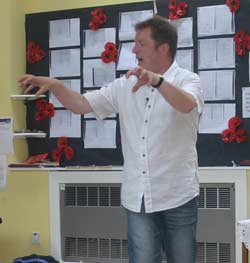 This FREE additional film accompanies our perfomance poetry workshops and the introductory article, "It's not what it looks like … it's what it sounds like by Paul Cookson.
In the core part of the workshop resource, Literacy Time PLUS Ages 5 to 7 subscribers can enjoy a film of Paul performing The King of All the Dinosaurs, subscribers to Ages 7 to 9 can enjoy Paul's Mr Shadow's Shoes poem, while Literacy Time PLUS Ages 9 to 11 subscribers have The Jumper Granny Knitted
Look out for the next part of our performance poetry workshops in our January issues.