Liz Humphreys — former occupational therapist and founder of Help for Children in Uganda
Over the next three months Michael and Liz describe life on a remote Ugandan island – an ideal resource for geography lessons
'Help for Children in Uganda' is a relatively new charity that has set up a 'family home for children who have nowhere to go', on the Ssese Islands in Lake Victoria. We have a main base, called HUG House (pictured below), where eight of the children live, attending nearby schools. Our main work is to support children in accessing education on the more remote islands.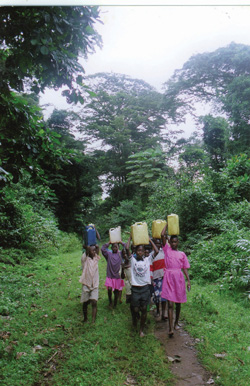 Children as young as six often have to walk a mile to collect water
Where are the Ssese Islands?
The Ssese Islands are a large island group in the North West of Uganda's Lake Victoria. There are 84 islands and about 63 are inhabited. They are remote and difficult to reach, and lie almost directly on the equator. There are no seasons, and daytime and night-time tend to be of the same length, with the sun rising and setting at about the same time each day.
Local vegetation is tropical and luxuriant, with areas of tropical forest and clearings. These can clearly be seen on Google Earth. There is a wealth of flora and fauna, including a huge variety of birds and insects. The many monkeys are considered a pest as they eat the crops.
In terms of distance, our schools on the three remote islands of Bubeke, Jaana and Buyange are about a two-hour boat ride from HUG House, which is on Bugala, the main island. Apart from what can be grown or caught locally, all supplies have to come by the ferry from mainland Uganda.
Transport
There are two ferries connecting the main island with the mainland. Public transport consists of buses and minibuses, which run daily from Kalangala town to the main Kampala Road. Motorbikes provide transport for short distances, and trucks carry goods and sometimes people. Large wooden open boats, powered by outboard engines, offer inter-island transport.
Occupations
Most of the male population are fishermen, but this source of employment is threatened because fish stocks are rapidly depleting due to over-fishing. Timber cutting supplies the wood for furniture, boat-building and house construction. Some people farm and grow cash crops such as coffee and palm oil.
Women are engaged in small-scale crop farming for home consumption and trading. Some women are involved in fish drying and smoking for export to Rwanda and the Congo. Others are employed in stone quarrying for building and road construction.
Climate and soil
The island group lies just south of the equator. This makes the islands warm all year round, with two rainy seasons. The climate and soils, which are fertile loam with rocky areas, support a luxuriant vegetation growth throughout the year. There are large areas of forest and tall grasses with rocky and sandy soils.
Education
The Government introduced Universal Primary Education in 1997, which has given access to education for many children in the country. However, the islands have particular problems. Each sub-county has at least one primary school, but while the main island (Bugala) has 11 and the second island (Bukasa) has three, the remaining 61 islands have only seven schools among them. There are no Government-funded boarding facilities for primary schools and the distances are too great to allow daily travel. The three secondary schools on the two largest islands have boarding facilities, but fees are too high for many families.
HUG

house

HUG House is a brick building with six rooms. Liz, who lives there, uses one as a bedroom and another as an office. There is a large dining room for everyone and two bedrooms for the children. We use the entrance space as a sitting room for visitors and grown-ups. The large hall is used by the local church for services and group activities.

During term time, four girls stay at HUG House and attend local schools. They are looked after by our housemother, Agnes. In the holidays four other girls come from boarding at Bubeke and a secondary school. These eight children have nowhere else to go. This is either because both their parents have died and they have no other known relatives, or because their relatives are so far away and so poor they cannot look after them.

Compared with the homes the children have come from, we live in luxury. We have an outside tap for water, but the water is often off. When this happens we have to walk about a mile to the well, fill the jerry cans and climb a steep hill before walking back to HUG House. Even six-year-olds help with this activity.

The islands had no electricity until last year. There was great excitement when a company bought a generator for the town. We paid to get connected and for a month were thrilled to have electricity from 7pm to 11pm. We watched DVDs, played music and used the computer. But after a month everything stopped – we never found out why – and have not had electricity since. We hope one day it will return!

We have an outside kitchen made of iron sheets. Cooking is done in three ways. Most of it is on firewood, which has to be collected from the forest and carried back. The saucepan is balanced on three stones. Charcoal is produced locally and has to be purchased; a special stove called a sigiri is used with charcoal. Paraffin is the most expensive but the easiest way of cooking; we buy paraffin from the petrol station.

We have an outside latrine block about 50m from the house. The long drop latrines are about 10m deep. There is no seat, you squat over a hole! Bathing is in a bowl with a mug to pour the water over.

Next month: school life and the education system.