Explore a range of citrus fruits while celebrating the festival of Sukkot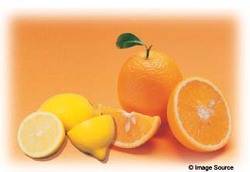 Oranges and lemons
Knowledge and Understanding of the World
Exploration and Investigation
Develoment matters: show curiosity and interest in the features of objects and living things (30-50 months).
Early learning goal: investigate objects and materials by using all of their senses as appropriate.
What you need
Group size: small groups.
Citrus fruits, such as oranges and lemons; thick paints in citrus colours; paintbrushes; large bell-shaped sheets of paper or card; glue; fruit bowl; books and pictures about the festival of Sukkot.
What to do
Talk with the children about the Jewish festival of Sukkot and explain that it celebrates the fruit harvest, especially citrus fruits such as oranges, lemons and limes.
Show the children the citrus fruits and talk about the different colours, shapes, textures and smells. Cut the fruit open and examine the similarities and differences of each fruit, for example, the pattern of the segments, thickness of skin, colour and smell, and so on.
Sing the first verse of the traditional rhyme 'Oranges and Lemons' with the children:


Oranges and lemons, say the bells of St Clement's.
You owe me five farthings, say the bells of St Martin's.
When will you pay me? Say the bells of Old Bailey.
When I grow rich, say the bells of Shoreditch.

Give each child a large bell-shaped sheet of paper and a selection of thick paints in citrus colours. Invite them to paint bold pictures of the outside and inside view of the fruit.
Encourage the children to pay attention to details such as the dotted pattern on the surface of the skin and the star-like lines inside the cross section.
When the bells are dry, secure them back to back and hang in pairs to create colourful mobiles.
Display spare citrus fruit in a bowl with books and pictures about the festival of Sukkot.
Support
Help younger children to make careful observations as they paint, by asking them to point out features on the real fruit, such as shape, pattern and colour.
Assessment
Do the children show an awareness of similarities, differences, patterns and change?
Next steps
Let the children use the fruit segments to create a printed border for a display of words and pictures about the rhyme 'Oranges and Lemons'.
Extension
Invite older children to mix the paints to create citrus shades.
Home partnership
Encourage parents and carers to involve their children in observing some of the more unusual exotic fruit while shopping.
Further idea
Ask for parental permission for the children to taste and handle foods. Check for any food allergies and dietary requirements. Let the children taste different fruit during snack time and encourage them to describe similarities and differences in the flavour and texture.