What type of teacher are you? And does your teaching style complement your colleagues? Our fun quiz has got teachers gripped. Why not have a go?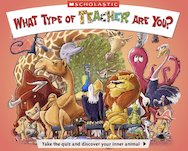 Okay, we know that you are busy right now with your new class, but maybe now is the right time to relax and take stock! We have put together a Teacher Quiz to help you evaluate exactly what type of teacher you are!
You may need Flash
To use this resource you need Adobe Flash installed on your computer. To get the latest player:
You may need to be an Administrator to install this.
Are you an eagle – a natural high-flyer who never settles for second best? A puppy – whose playful nature is a big hit with the children? Or even a duck – the natural all-rounder who never gets in a flap?
Have fun!