Welcome to our new online 'Resource Clinic', in association with Cost Cutters. We're here to answer all your questions about buying resources for your school or setting and we'll try to reply within 24 hours.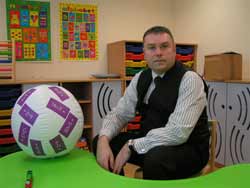 Spencer Courage, Cost Cutter's MD and resource guru
Spencer Courage, Managing Director of education supply company Cost Cutters, tackles another of your questions…
Q. 'How can I make sure the products I am buying will be safe for my class to use?' Vicky, Cheltenham
A. We often take product safety in schools or nurseries for granted – until we hear about a problem in the press. The product may have made news, not because it was innovative, brilliant and ground-shattering, but because a child choked, got poisoned or cut!
But we can't be with young children ALL the time, and how often have we seen them licking just about every part of every product… they're children after all and it's in their nature to be tactile. Those young, enquiring minds and little fingers get everywhere – and that's where potential problems occur! Fine if the product doesn't have enough lead-based paint to roof a church, or enough dangerous sharp corners to carve the Sunday roast, but when there are still 'cowboys' out there who just want to manufacture the cheapest products they can to stretch their profits, the loser in this sorry tale is the unfortunate child and the poor guilt-ridden teacher or parent!
I'm a parent myself and I take my children's safety very seriously. Like everyone else I like a bargain, but not at the expense of my kids. I'd rather do without than expose them to dangerous products.
To help you choose safe products, there are some signs to watch out for. For example, you should only buy classroom or nursery furniture with the European safety standard BS EN 1729 mark. It's your assurance that the product is made to acceptable standards and is safe to use. The British Standards Association's (BSI) Kitemark® is another certification mark to check for – products with this symbol will have been rigorously checked, to make sure they meet safety standards and are manufactured using a quality process such as ISO 9001. You might also see the CE mark – particularly on toys. This confirms that the item meets all the essential requirements of the relevant European Directive on health, safety, and the environment.
It's my responsibility, as an education supplier, to always ensure that we manufacture or import to the highest standards. It's yours, as specifiers and parents, to make sure that you purchase properly, sourcing, whenever possible, products and resources from reputable suppliers. Find suppliers who only offer quality, certified products that they themselves stand by – to make sure your children's welfare is in safe hands.