Explore transport with a twist by combining the real with the ridiculous using a fun space poem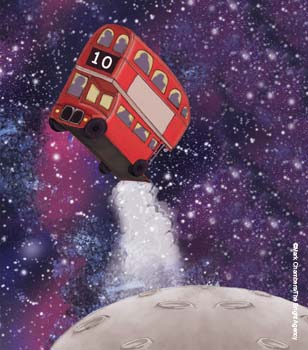 It is a very ordinary thing for children to ride a bike, but to ride it to the Moon is a fantasy – a nonsense! The poem on Activity sheet, 'Back from the Moon on a Number 10' takes its inspiration from Edward Lear's 'The Jumblies' (see Activity sheet, 'The Jumblies') and is just that – a nonsense poem. Woven within the poem, however, is a mixture of real modes of transport.
Provide children with a copy of the poem, read it together, sorting out the incredible from the possible. For example, the rocket and spaceship are exactly where we expect them to be, but a bus stopping on the Moon – not yet anyway!
Activities
1. A vehicle for imagination
Ask the children to make a collection of all the means of transport that they can think of, including the ordinary, such as trains and cars, to the more unusual, such as rickshaws and cable cars. Develop these ideas by discussing and listing the conventional ways of using the vehicles, alongside imaginary ways. For example, using a pogo stick in the garden, compared to a jet-fired pogo stick on the motorway!
2. Finding the rhythm
Compare 'Back from the Moon on a Number 10!' with 'The Jumblies,' helping the children to feel the flow and rhythm of both poems. They both have a similar 'tune' and also include a satisfying sense of repetition. Provide a variety of short poems for the children to read out loud and choose one with a rhythm that they enjoy. Encourage them to hum the 'tune' before using it in a poem that includes one or more forms of transport with the beat of a few repetitive lines.
3. Telling a story
One way for children to begin writing their own nonsense poem, is to take a silly idea, and then exaggerate it. Revisit the ideas suggested in activity one for using vehicles in imaginary and nonsensical ways, and develop them even further. Next, re-read Back from the Moon on a Number 10!' and talk about its structure. Children will soon see that it is also a 'story' poem, with a definite beginning, middle and end.
4. A cautionary tale
In the tradition of both Edward Lear's 'The Jumblies' and Hilaire Belloc's 'Matilda who told such dreadful lies', this poem also includes a 'cautionary' note that foretells disaster or a comeuppance for silly behaviour. For example, 'Everyone said 'They're on the Moon,/ But it can't be right, it isn't wise,/ To ride a bike back from the skies.'
Divide the class into 'narrators', 'caution advisors' and the 'characters who rode to the Moon', and recite as a performance poem. Create a class poem, drawing together the nonsensical ideas for using transport with a story outline, and encouraging children to imagine what the 'caution advisors' might say.
5. Curious characters
Ask the children: Who are the characters in the poem? Ask them to look for clues; they can ride a bike, skate and catch a No 10 bus, but who, or what, are they? Ask the children to make lists of different types of transport and opposite each item, list the usual driver. For example: motor bike – motor cyclist; ship – sailor; rocket – astronaut. Cut out the labels, jumble them up and randomly pair each transport item with an absurd driver, such as surfboard – taxi driver.
Suggest that children visualise all the strange things this driver might do, by drawing a series of cartoon action pictures, such as a taxi driver on a surfboard, racing through a city to pick up passengers. Use these visual texts to inspire short and ridiculous couplets.
Don't forget!
To download Activity sheet, 'Back from the Moon on a Number 10' — a beautifully-illustrated original poem by Brenda Williams.