Explore storytelling and reading aloud with these dip-in activities.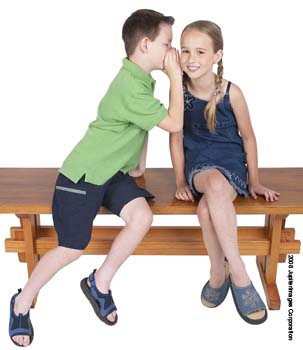 Children can play Chinese Whispers around the school grounds
Activities
1. Chatterbox challenge
Invite the children to pick a favourite story – either the class read or their own book. Challenge those that feel confident to stand up and talk about their book, without any notes, for between 30 seconds to a minute. They can choose to describe a character or a scene from the story. If some children are less confident, you could divide the class into small groups or pairs and ask them to prepare something about their chosen book together. The group then has 30 seconds to a minute to talk about it, with everyone given a chance to say something.
2. Word of mouth
Create a 'word of mouth' wall display. Make a large mouth out of coloured card – open, as though speaking. You could add teeth and a tongue if you wish! Offer the children the chance to explore the words that they use in the playground, or words they've used in a certain lesson (with obvious restrictions!). Hand out blank speech bubbles and invite the children to add their word to one. They can then all stick their chosen word onto the word of mouth display. Next, challenge the children to write a small story on a specific theme, or anything they like, using words from the display. Those that want to, can then read their story aloud to the class.
3. Traditional tales
Explain to the children that tales and stories were often told aloud around the fire in the home or a campfire as a form of entertainment. Turn your classroom into a campfire setting. Invite the children to sit on the mat. Make a fake fire, bring in blankets, provide hot chocolate and marshmallows to create a campfire atmosphere. Choose a traditional, wintry tale or a spooky story (if you celebrate Halloween and the children won't be too scared) and tell it using as much expression as possible. The children could even help to provide the sound effects!
4. Chinese whispers
Talk to the children about how people in the past communicated news by word of mouth – explain that they didn't have the forms of technological communication we have today; sometimes not even pen or paper. Set the children a challenge to see if they can pass a message on from one person to another without using any technology. To do this on a grander scale, and to mimic a journey a messenger may have taken, spread the children out around the school – inside and out. Start the message off outside and see what message you end up with back in the classroom. Discuss why it's important to convey messages clearly and to listen to what people say.
5. All in a word
Reading aloud – whether it be a poem or story – and adding accents, tone and expression can all help to bring the words to life. Ask the children to think of a list of famous people. See if you can find videos of the people they've chosen on the internet to watch in class. Talk about their accents and tone of voice and give children the opportunity to mimic them. You could also talk about stand-up comedians and theatre actors to look at how they use voices, expression and humour to bring anecdotal stories to life. Create a big storytelling chair or stage area and invite the children to perform a poem or story read in the voice of a famous person.