Use a simple action rhyme to learn to say hello and goodbye in different languages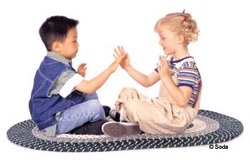 Communication, Language and Literacy
Reading
Delopment matters:understand the concept of a word (30-50 months).
Early learning goal:explore and experiment with sounds, words and texts.
Group size
An even number of children so that they can be paired up during the action rhyme.
What you need
Large, open space.
Practitioner's notes
This simple activity rhyme matches familiar actions, such as waving goodbye, with unfamiliar words taken from other languages.
To English speakers, 'Germanic' languages are often the easiest to pronounce, as the words come from the same roots as English. To keep the activity simple, try to use phrases from German, however, words and phrases from almost any language can be used, and the activity should be adapted to suit the ability and cultural background of your group (in a predominantly Muslim area, for example, many children will have begun to learn Arabic).
If you have children in your group who speak other languages, ask them to share their knowledge and suggest simple words that can be included in the rhyme.
What to do
Invite the children to play 'Pat-a-Cake' with a partner.
Sing the following rhyme to the simple rhythm that is created by the children's clapping hands.
'Hello' is my favourite word,
I use it all the time.
'Hello' is an English word,
(Children shake hands.)
I think it's very fine.
But if I was in Germany,
I wouldn't say 'hello'.
I'd say 'hallo' instead,
(Children shake hands.)
To everyone I know.
For other verses, replace 'hello' with words such as 'goodbye', 'yes' and 'no', accompanied by the appropriate actions, such as wave hand, nod head, shake heads, and use the German words 'auf wiedersehen', 'ja' and 'nein'.
Top tip
Children who speak English as a second language may have difficulties integrating with the group when they first arrive at your setting. Activities such as this can help to build their confidence.
Support
Ask the children to help you think of actions that could be used instead of words, for example, rubbing your stomach may mean you have a tummy ache.
Extension
Invite the children to help you work out further verses and suitable actions.
Home links
Ask parents to teach their children one word from a language other than English, which they can share with the rest of the group.
Further idea
Say the rhyme 'Frère Jacques' and adapt it to suit the ability of your group.