Promote International Walk to School Month this October with some fantastic top tips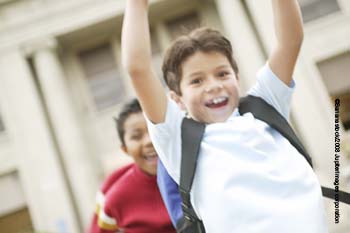 About 50 per cent of children don't walk to school regularly and more and more children are being driven to school in a car. This trend is contributing to reduced physical activity and increased childhood obesity, urban congestion and air pollution.
The Walk to School Campaign, run by the charity Living Streets, asks parents, children and teachers to think about their journey to and from school, and the many benefits of making it on foot.
Activities
1. Journey to learning
Explain to children that learning can begin from the moment they leave their front door in the morning, and continue after they've left the school gates in the afternoon. Over the course of a week, encourage your class to make notes about their school journey as they walk to and from school. You could theme this depending on your current teaching topic – for example what types of buildings do they pass (religious, historic, industrial)? What signs are about (road, safety, entertainment)? Do they see the same things/people on the same days? At the end of the week, share accounts and then develop them into some creative writing ideas. Invite children to write a poem or short story with the title 'My mysterious walk to school'.
2. Ditch the car
Blaze an environmental trail by asking children and teachers to walk or cycle to school. Putting wheels (or feet!) in motion, students could be encouraged to use public transport and share lifts wherever possible, followed by discussing the positive impact on the environment in class. Schools could also host a fundraiser event to offset carbon emissions by planting trees within the school grounds.
3. Step to it
Walking to school is great exercise for both parents and children but how far do they actually walk? Ask the children to count the number of steps they take during their walk to school. Then, they can work out the approximate measurement of one of their steps. They will then be able to multiply the number of steps by the distance per step to work out how far they walk to school. This can be extended to include how many steps they walk in a year of walking to school – how far does this compare with the distance from other towns, cities or countries? For example, they might have been able to walk the equivalent of London to Paris! Why not work out how far the whole class would walk if they all walked to school for a year?
4. Bringing science to life
Walking to school and then extending the outdoor experience within the school grounds will help make lessons exciting, and the exciting lessons are the ones that children remember.
As part of a focus on weather, invite the children to make notes of what the weather was like during their walk to school over the course of a week/month. You can then help bring science to life with energy sets containing robust equipment, such as wind turbines, solar panels with motors, buzzers and lights. These are great for engaging primary children and can link perfectly with data collected from the walk to school. Why not embark on further experiments to see which alternative green energy source is more efficient — solar or wind?
To further help inspire teachers, Data Harvest has launched a range of activity sheets to enhance the curriculum and bring science to life using hands-on datalogging activities. Children will learn the secrets behind modern day science phenomena such as: 'Why does eating chocolate make me feel good?', 'Why does the music on my MP3 player sound scratchy?', and 'How do speed cameras that catch speeding drivers actually work?'. Each pack includes a folder of fully illustrated teachers' notes with example graphs and children's activity sheets plus a CD containing the on-screen activity sheets. Packs are available for different age groups and cover science, biology, chemistry and physics. For further information please contact Data Harvest Tel: 01525 373 666 or visit www.data-harvest.co.uk