Thinking skills: Launch creative thinking!
22 September 2008
Add to My Folder
This item has 5 stars
of a maximum 5
Rated 5/5 from 1 rating (Write a review)
Use the famous Apollo 13 mission to boost children's thinking and learning skills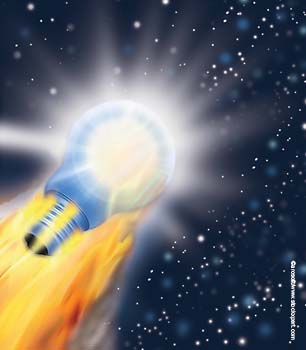 Help launch children's light bulb moments with creative thinking skills activities
In the real world, we apply a range of thinking and learning skills to reach an objective. Whether it's juggling appointments, deciding which alternative route to take when a road's closed or deciding if you agree with something or not – all of the above require us to think, apply and learn from our actions. The lesson plan that follows, taken from Creative Activities for Thinking and Learning Skills, Ages 7-11 by Mike Fleetham (Scholastic, £20 PB), asks the children to use a combination of thinking and learning skills to find a solution to a problem, based on what they know about the Apollo 13 space mission.
Setting the context
The crew members of the Apollo 13 mission were saved by the creativity of a group of scientists and engineers on Earth. Under time pressure, they laid out only the materials and equipment available to the astronauts in Apollo 13. They worked with these limited resources to produce a life-saving solution to the problem of a damaged spacecraft. Allow the children to copy this scientific way of problem solving. In teams, provide the children with limited resources and time to come up with a solution to one of the following problems:
A thief is stealing ice-creams, buckets and spades from children on the beach.
The show starts in 15 minutes, the orchestra has arrived but the instruments have not.
A blind scientist needs to be able to find his way around the laboratory.
Rats are overrunning our public buildings.
The challenge
Solve one of the problems above within a set time and with limited resources.
Objectives
To learn to solve problems with limited resources and under strict time pressure.
To develop creative thinking skills, using objects in ingenious ways.
To improve listening skills.
You will need:
A visible timing method; a short film clip of the Apollo 13 mission (optional); ten random objects with which to solve the problems, such as a wine glass, £10 note, calculator, five metres of string, silly string, box of matches, tape recorder, tennis ball, newspaper and a torch.
Preparation
Assemble the random materials for demonstration only. Think up some problems in addition to the ones suggested. Research the Apollo 13 mission and either have an account of the mission to hand or locate a suitable film clip to show the children.
What to do
If possible, show a short film clip of Apollo 13 and recount the Apollo 13 story to the children. (Two days after launching, the spacecraft was damaged by an explosion caused by a fault in the oxygen tank. This resulted in a loss of oxygen and electrical power. The crew used the lander portion of the spacecraft as a 'lifeboat'. The main systems remained functional, but were deactivated to preserve the vehicle's ability to re-enter Earth's atmosphere. Despite having little power, cabin heat or water, the crew successfully returned to Earth.)
Describe the problem-solving strategy that the children will be using: they will have limited time and limited random resources.
Organise the children into groups of four and allow them to choose one person from their group to write down the ten items available to solve the problem.
Give all groups the same problem to solve (see 'Setting the context') and five minutes to come up with a creative solution using only the ten items available.
Call them back together and ask them to share their ideas.
Ask them if any additional items would have helped.
Offer three further problems and allow groups to choose which one they tackle.
Set another five minutes, but this time ask for at least two different solutions.
Drawing together
Draw the children together and invite each group to talk about the new problem they tackled and the solutions they came up with.
Encourage them to evaluate their group work by asking the following questions: What strategies did you develop? How well did your group work when it was under pressure? Were there any problems in the group? Do you work better under time pressure? Does everyone in the group work better under pressure?
Support
Allow children more time.
Suggest simpler problems and more obvious objects to stimulate their solutions. (For example, the problem is a cat stuck up a tree and the resources available to solve the problem are lots of wood, nails and a saw.)
Extension
Apply this problem-solving strategy directly to other curriculum areas.
Reduce the number of objects available, encouraging children to think more creatively about the objects they do have.
Ask children to set their own problems and challenge each other to solve them.
Further information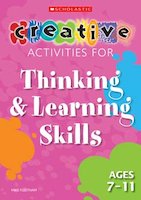 There are lots more great activities for getting children to think creatively in Mike Fleetham's Creative Activities for Thinking and Learning Skills, Ages 7-11 (Scholastic, £20 PB). Visit our 'Giveaways' section for a chance to win one of five copies.