Liz Humphreys — former occupational therapist and founder of Help for Children in Uganda
In the second of our geography resource articles, children can find out how schools are run on the Ssese Islands in Uganda
This is the second article in our resource series about children on the Ssese Islands in Lake Victoria, Uganda. Last month's article looked at the islands and HUG House. This time we look at two of the schools the children attend and what life is like there. One is a government school; the other a smaller private one. Education is regarded as vital by the children and they see it as a way to improve their life.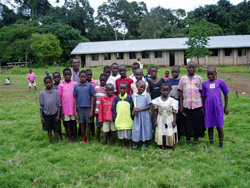 Bubeke School
Bubeke Primary School, a state-funded school, is about a two-hour boat ride from HUG House. The island is three miles across, with no roads and no vehicles. There are roughly 140 children in the school, with seven primary classes – the full range for Uganda.
Children of up to 18 years are often still in primary school because they may have missed a lot of school earlier in their lives. This can be for many reasons, such as poverty, ill health or being orphaned. HUG is helping children who have been out of education to get back into school.
Some children come from other islands and have to board because it's too far to travel each day. There are about 35 boarders, most of whom are supported by HUG. The buildings are brick but there is no glass in the windows, which means that wind and rain can be disturbing. The boarding block is the oldest building and getting quite dilapidated. There are only 12 bunk beds, so the rest of the children have to sleep on the floor.
A typical school day
The children get up at 6am, when it is still dark. After a very quick wash in cold water from their jerry cans, they do chores such as sweeping the classrooms, picking up rubbish, fetching water and firewood, and milking the school cow. School starts at 7.30am when all the day children have arrived. Some of these children have an hour's walk, often along forest tracks, to reach school – a long way for P1 children who are only six years old. There is an assembly outside for all the children.
At 10am there is a break for porridge, which is the first meal of the day for most children. Lessons continue until 12.30 when P1 and P2 children finish school and go home. The rest of the children have a meal of maize and beans, which they have every day. HUG provides lunch for 75 of the poorest children who would otherwise not get a meal until the evening.
School finishes at 4pm, but there are still chores to be done. Water and firewood have to be collected for the evening meal, the chicken and cow have to be tended to, and the school vegetable patch has to be weeded. The boys usually rush through their chores so they can play football, while the girls help prepare supper. The day children go home at around 5pm. At about 6.30pm, by which time it is getting dark again, children complete an hour and a half of homework before they have supper. Then, after bathing in cold water, they go to bed at around 9pm. There is no light unless someone has a battery in their torch or there is a little paraffin for the lamp.
Bridge of Hope School
Bridge of Hope Primary School is a private school which was set up in Kalangala, not far from HUG House, about two years ago. The existing government school had very large classes of 90 children and many were not learning. Bridge has small classes, so children get a great deal of individual attention. Private schools are dependent on parents paying on time, which is rare. Small classes are good for teaching, but the school is always struggling to make ends meet.
The school has five primary classes and three nursery classes. As the children progress through the school they add another class, so next year the P5 children will go into a new P6 class. There are a few boarders from other islands at Bridge School.
The total number of children in the primary school is about 50. The parents of Bridge children are often higher earners than those that attend government schools. There is also more parental involvement, as parents are keen for their children to have the best education available.
School policy
The school is built on a steep slope and is not yet finished. The classrooms have no windows or doors and few resources. There is an open area with swings at the bottom of the slope, where the children play.
The school is very formal and insists on children wearing uniforms. Discipline is strict and the children are well-behaved. Only English may be spoken and not the local language. Although English is the national language and the language of education, government schools teach in vernacular for the first three years.
School starts at 7am and the children have to be on time. Classes are formal and consist mainly of copying from the blackboard. There are few textbooks, sometimes only one for the teacher to use. Class work is intense and the children have tests every week. They also study during the holidays.
Parents' days are a big event. In the morning the parents look at the children's schoolwork and talk to the class teachers. They also bring a special meal to share with their child. After lunch the children put on a performance of singing, dancing and drama, and this is followed by talks from the staff and discussion with all present. This is usually a lively affair which can go on till dusk!
Next month: a typical day in the life of two Ugandan children.