Forget gold stars and dish out Michelin ones as your class gets into role and cooks up a storm in the classroom!
To make the chef's hat
You will need: roll of white paper; scissors; sticky tape.
Cut out a length of white paper, approximately 30cm deep and long enough to fit around the child's head. Fold over lengthways and join the corners with sticky tape.
Cut straight lines from the fold, stopping 3cm before the edge of the paper.
Join the two ends together with sticky tape to form the hat.
Cut out a strip of folded white paper to make a hat band. Place the band around the outside of your hat and tape it at the back.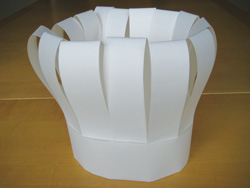 Snack snap!
PSHE 3a: make simple choices that improve their health and well-being.
Cut out pictures of different foods from magazines, or take digital photographs of your weekly shopping, and stick them onto separate pieces of card. Sort the cards into two groups. Fruit and vegetables go in one group (call this the 'green' group) and all other foods go in the other ('red') group. Get the children to draw a big green spot or a big red spot in the top right-hand corner of each card next to the appropriate food photo. Then shuffle the cards and share them out among two or three players. As with 'Snap', take turns to put one card down, but here's the difference – if you can place a green card on top of a red card you win the pile. The player with the most cards wins the game, gets five 'Michelin stars' and can wear their chef's hat.
With older children, draw out the link with current food labelling. Show them a product that has a 'food traffic light' label printed on it and, in simple terms, explain how it works. Say that 'red' foods (those that are high in fat, salt and sugar) need to be balanced in our diet with healthier 'green' foods, such as fruit and vegetables.
Bread basics
Sc3 2b: explore the way some materials change when they are heated; changing states. Ma3 4a: measure weights and capacities, using standard units and measuring instruments.
Making bread is one of the most rewarding activities for little chefs, and you'll cover many curriculum areas at the same time. But you will need to be organised and work in small groups, so extra help is essential. Make sure work surfaces are clean and covered with plastic or paper tablecloths. Get the children to wash their hands, put on aprons and, of course, their chefs' hats!
To make ten bread rolls you will need:
750g white bread flour
1×7g sachet of dried yeast
2 tsp salt
25g butter
450ml (3/4 pint) warm water
greased baking tray.
Let the children help with measuring the ingredients. Mix together the flour, salt, butter and yeast. Gradually stir in the water to form a soft dough, and knead on a floured board for ten minutes. Leave the dough in a large bowl, covered with cling film, in a warm place to double in size. Then knead again. Divide the dough among the children and shape into rolls. Sprinkle with flour and put on a greased baking tray in the oven (230oC/450oF/Gas mark 8) for approximately 15 minutes.
Belly maps
Sc2 2b: we need food and water to stay alive. Ma3 4a: identify time intervals, use vocabulary related to time.
Give each of the children a piece of white paper in the shape of a stomach and tell them they are going to make a belly map of everything they eat today! First, ask them to make a list of what they had for breakfast and what they had for lunch. They should also include any snacks or drinks they've had. Next, they can draw pictures of everything they've eaten on their map and write word labels. Divide the map into different sections: breakfast, lunch, dinner and supper. The children will need to leave a space for what they are going to eat later in the day when they go home. Then, for homework, they can draw or write down what they had at home for their dinner and supper. First thing the next morning, let them complete their belly map.
During the activity, make the children aware of all the different foods they eat during the day and at what times they eat. Don't forget to include drinks, too. Establish that we need food to keep us healthy and that our bodies tell us when we are hungry – at approximately four-hour intervals.
A vine life
En2 and En3: read and write for a range of purposes on paper and on screen. Sc2 3c: seeds grow into flowering plants.
Write a life story of a pea in a pod, a tomato, a potato, a carrot, or any other fruit or vegetable that the children are familiar with. Discover as much as you can about the place or country where your fruit or vegetable might have come from. For example, your tomato could have come from Spain. Find Spain on a globe; you could even give your tomato a Spanish-sounding name! Then try to map out its life from a little 'baby' seed to an 'adult' tomato. Look at the life cycle of tomatoes on the internet and draw labelled pictures for each stage of growth.
Continue to anthropomorphise your tomato by giving it 'human' thoughts and speech. Alternatively, write up its life story as a more factual science report. After your research, present your life stories as animated cartoons with speech bubbles or as PowerPoints with music and sound effects.