Here we are then, getting towards the end of a busy term and thinking about Christmas. I thought I'd give you a couple of Christmas poems that are not only fun for reading out loud but which could also work well as introductions to your own poetry workshops …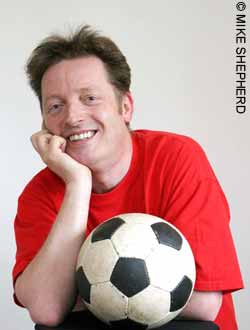 Both of these poems appear in my collection Funny Poems For Christmas (Scholastic, 9780439944106). Literacy Time PLUS is offering you the chance to win a copy of this book by helping us to write a shared Christmas poem (see below).
Ideas for the classroom
Take Note…
This poem is about leaving a note for Santa and – more surprisingly – receiving a note from Santa about what he would like. Why not write a list poem of your own, called CHRISTMAS WISHES FOR … about particular items that someone might want for Christmas – maybe a teacher, a footballer, mum, dad or even the dog, cat or hamster. The things on the list don't have to be "physical" – for example, mum might want peace and quiet, teachers may wish for extra holidays.
Chrismixed-up Mum
This is about mum getting things mixed up in all the hustle and bustle of Christmas time. Why not write a list of things that different people have to do at Christmas and then mix up the endings?
Take Note…
I emailed Father Christmas
At santaclaus.com
With this year's Christmas list
And everything I want
Expensive and expansive
I asked for such a lot
Then Santa emailed back
And this is what I got
A print out of another list
Of things that I should leave
At the bottom of the chimney
On this Christmas Eve…
Snow proof leather Wellingtons
Thermal underwear
Gloves with fleecy lining
A hat that's lined with fur
A scarf that's extra long
To wrap around a beard of white
Goggles for the snowstorms
Headlights for the stormy night
Reindeer socks and woolly hats
Carrots, milk and oats
Sherry, pies and whisky
To warm up winter throats
Chocolate bars for energy
Coffee, tea and cake
Matchsticks to help tired eyes
To try and stay awake
It finished with a little note
From Santa Claus himself
Wishing us the very best
Happiness and health
I read it once then once again -
Seeing is believing -
He said "Remember … Christmas is
For giving, not receiving.
Chrismixed-up Mum
Mum's had too much sherry
With all the preparations
She seems to be mixed up
With Christmas decorations
Win a copy of Funny Poems For Christmas
Here on the website in December will be a special Christmas Card illustrated by David Parkins and containing a poem I have started called 'Things To Find In Santa's Beard'. Email some extra lines for the poem to littimefeedback@scholastic.co.uk and, if your ideas are used, we will send you a FREE copy of Funny Poems for Christmas. Don't forget to include your name, school and school address so we can send you your copy of the book.
The tree is in the bath
There's tinsel in the street
There's crackers in the shed
And holly on the toilet seat
Streamers on the garden fence
Stockings on the dog
And mistletoe on the chimney
So Santa gets a snog!
Poems © Paul Cookson