Give your literacy lesson some multimedia magic with our free digital text and activities
The revised Literacy Framework recommends that multimodal or digital texts are incorporated into literacy teaching, through the use of the internet, digital cameras, sound recording software, presentational software, and so on. The new series by Scholastic, Multimodal Texts, allows you and your class to explore and study these types of media in a safe environment.
The following activity has been taken from Multimodal Texts: Year 2 and uses an online podcast as an example of a digital text.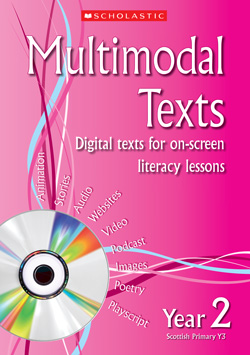 Objectives
Strand 2: Listen to others in class, ask relevant questions and follow instructions.
Strand 9: Draw on knowledge and experience of texts in deciding and planning what and how to write.
Responding to the text
The digital text, available below, is a podcast of a children's art and craft radio show. It is a 'listen and do' show. Children can either listen to this alone or with an adult to help them.
Explain that a podcast is a sound file that can be downloaded from the internet and played on a computer or

MP3

player. Ask: What do you think the podcast was about? Have you ever heard anything similar? How could we use this podcast?
Explain that the podcast is giving instructions about how to make a puppet. Listen again to confirm this. Provide the materials to make the puppets, and ask the children to follow the instructions and make their own. Ask: Can you remember everything you need to do? Suggest replaying the podcast and pausing after each instruction.
Compare the puppets and evaluate whether the instructions were clear and easy to follow. Ask: Would it be easier to follow written or drawn instructions or a combination of these?
Read and display the activity sheet, 'How to make an Aboriginal-style shaker' (see below). Look at the language and layout features – the statement of purpose, the list of materials needed, the sequential steps, the direct imperative register (bossy 'do' words), and the time connectives.
Encourage the children to work in pairs to highlight the time connectives in one colour and the bossy words in another colour. They can then follow the instructions to make the shaker.
Go digital with Multimodal Texts
This activity and linking digital resource was taken from the new Multimodal Texts series published by Scholastic. There are six books available – one for each year group from Year 1 to Year 6 – and each book comes with a CD-ROM containing 14 age-appropriate mixed-media texts.
For more information visit the Scholastic teachers' shop and type 'multimodal' into the search box.
Writing activities
Create a word bank of time connectives with the class for them to refer to, and display these prominently in the classroom.
If possible, ask another adult to demonstrate how to make a card for an appropriate celebration such as Christmas, Hanukkah, Eid or Divali. Include steps that involve sticking pieces on or cutting pieces out, instead of completing a simple drawing. Ask the class to give a simple instruction for each step after its completion, and model how to write this. Take a photograph of the completed card to include in the written instructions.
Ask the children to work individually to create a card of their own design for the same celebration.
Encourage individuals to use their own experience to word process a set of instructions for how to make a card, considering language and layout features. Ensure they know how to use the return key to start a new line and how to use the bold and underline buttons for headings. Demonstrate how to use a spell checker if appropriate.
To make the text multimodal, add a sound recording of each child reading their instructions and a photograph of their finished card to the word-processed page.
Differentiation
Exclusive ChildEd

PLUS

reader offer!
We have ten sets of Year 1 and Year 2 Multimodal Texts to give away. To enter, simply visit our giveaways page, or send your name and address to: ChildEd PLUS Multimodal Texts giveaway, Scholastic Ltd, Villiers House, Clarendon Avenue, Leamington Spa CV32 5PR by 30/11/08.
Support
Ask the children to create a simple model from a construction kit. Help them to record an instruction onto a tape each time they complete a step. Give the rest of the class access to the tape recording and construction kit, and see if they can follow the instructions given.
Extend
Ask the children to work in pairs, one giving and the other receiving instructions to make something. Observe their work and assess. Can the children follow simple oral instructions? Can they give a simple instruction using appropriate language?
Next month: studying video