Serve up a treat with this fun interactive maths game
The 'Pizzas 'n' Pies' restaurant needs some help in the kitchen. Is your class ready to step up and take on the challenge? They will need to know their fractions if they hope to complete the food orders and meet the demands of the hungry customers.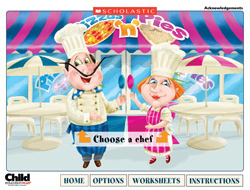 Two game versions
There are two versions of the game available (see below). A demo version of the game is available for non-subscribers, allowing children to play as the pie chef. Subscribers can access the full version of the game, which allows children to play as both the pie chef and the pizza chef.
Start by selecting your chef. Will it be pizzas or will it be pies?
The options screen allows you to set the difficulty of the challenges.
In 'Practise mode', children must click and drag the ingredients to fulfil the customers' orders. By clicking on the 'cook 'n' serve' option, children can check their answers.
'Cook off challenge' will really put your class to the test! Orders must be completed in a time limit, or the children will lose one of their three lives (represented by a chef's hat). When all three lives have been lost the game is over. How many orders can your class successfully complete?
Circles and squares
By choosing the pizza chef, children will be able to practise quarters, halves, and eighths using small, medium and large circular templates. With the pie chef, children will be able to practise their fractions using the three square pie templates.