Take a boy, a puppy and some chicks. Wait a year and what do you get? A wonderful story about growing up
Originally published in 1947, The Growing Story by Ruth Krauss (HarperCollins, ISBN 9780007254514), is a delightful chronicle of a year in the life of one small boy. Acclaimed illustrator Helen Oxenbury, famous for picture books like We're Going on a Bear Hunt, has provided new, contemporary illustrations to bring the book into the 21st Century.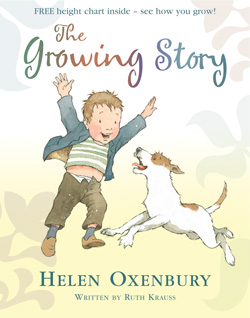 I love this book for its measured simplicity and its cheerful take on that bittersweet reality familiar to every parent: our children grow up far too fast! For younger Key Stage 1 children, however, growing up is an exciting and far from melancholy business, which generally happens all too slowly. As The Growing Story unfolds, children will love spotting the visual clues to indicate the passage of time.
Synopsis
We first meet the little boy, his puppy (small enough to carry) and some tiny chicks with snow lying on the ground. Spring is just around the corner, however, and soon the boy is watching as his mother plants out seedlings and prunes trees. 'Will I grow too?' asks the boy. 'Of course', his mother replies. When warmer weather arrives, the boy puts his winter clothes away for another year. With blossom on the trees, and plants and animals all around him shooting up in size, the boy begins to feel that he is the only living thing not growing any bigger. Before long, though, summer is over and the weather gets cooler again. The boy's mother takes out his winter clothes. But guess what? His trousers are too short and his coat is too tight. And so he comes to realise that he too has grown.
The four seasons
Read the story through, and ask the children for the names of the four seasons. Make a heading for each one on the board and invite the children to tell you some of the things that happen in the different seasons. Go back to the book and study each illustration in turn. Ask the children to tell you which season is being shown on each page. How many clues can they find in the pictures to help them?
Encourage individual children to talk about which is their favourite season and why. What are the good and bad things about each season? For example, winter brings bad weather and cold, but it also brings Christmas. Summer brings warmer weather, but for some countries it can also bring drought and water shortages. Divide the children up by the season in which they were born. Does having a birthday at that time of year make you more likely to enjoy that particular season?
Older children might like to discuss weather and climate. Is winter always cold? Is summer always hot? Can you tell which season it is by the weather alone? Who can remember a beautiful winter's day? Who can remember a day in summer when the weather was dreadful? (Shouldn't be difficult!) What are the seasons like in other countries?
Growing and ageing
Revisit each page of the book and ask the children to point out the different signs of growth that they can see. They will sometimes have to look carefully; remind them to look at the plants as well as the animals. Which living things grow quickest? Which living things grow slowest?
Children are intrigued by the fact that the tallest children in the class are not always the oldest. Choose a group of six or so children to come up to the front. First stand them in height order. Then stand them in age order. Are there any differences between the two lines? What does this tell us about how different people grow?
Thinking about the different classes in your school – how else can you tell how old someone is, apart from how tall they are? Which of these are things you can see? Which of them are things you can't? (Things to do with behaviour, for example, and what children of different ages like doing.) Can you always tell how old someone is by looking at them?
Just a minute
How do we usually tell how much time has gone by? What about if we didn't have any clocks or calendars, how would we tell then? Ask the children to sit absolutely still and silent for exactly one minute. Then ask them to have a chat with a friend for exactly another minute. Which minute went the quickest? What are the things that make time seem to pass more slowly, or more quickly? Does time seem to go more quickly as you get older? Why?
Changing clothes
Have a look at the book again and ask the children to pick out all the different items of clothing the boy and his mother wear during the story. When do they change their clothes and why? Are there any things they wear all year round?
Younger children might like to talk about the clothes they wear during different seasons of the year. What items of school uniform do they wear in summer? In winter? And what about at home? Which clothes might they wear all year round? Let them draw a summer/winter picture to show their different outfits.
Older children can think about the materials that clothes are made from. Do we wear different materials at different times of year? Why? Can they give you some examples?
How do the children know when they have grown out of their clothes? Ask them to try on some clothes and shoes in different sizes: some too small, some too big. How do they feel wearing clothes that are the wrong size? Can they guess what age child the clothes are meant for?