Two families tell their inspiring stories about how I CAN made a difference to their lives
Thien's story (aged three)
'Thien was almost two years old when we realised there was a problem. We had noticed his lack of communication, but we thought that he was a slow developer and that perhaps the reason was because we are bilingual. Our mother tongue is Vietnamese, but he couldn't even say 'Mummy' and 'Daddy' in that,' says Thien's mum, Lan.
'When Thien wanted something, he would scream the place down and become very frustrated. He did this because he couldn't express that he was hungry, tired or thirsty. The stress he was experiencing had a huge impact on our family. It was very upsetting to watch our little boy struggle to communicate.
"Now, we can't believe what a chatty little boy he is"
'We took Thien to our doctor and he was subsequently referred to a speech and language therapist (SLT). A community SLT worked with Thien and myself on one-to-one training, and he was then referred to I CAN. It was deemed that while Thien's problems were not severe, he had delayed language. We were told he would benefit immensely from attending a term with I CAN.
'He attended I CAN's early years centre at Mulgrave for an intensive ten-week programme aimed at improving his speech, language and communication skills. In three months, he has learned to speak. When Thien was at his previous nursery, they would find him wandering around aimlessly at the back of the setting.
'I CAN circle-time sessions work on ensuring that Thien is ready to learn by practising 'good looking', 'good listening', 'good sitting' and so on. Now, we can't believe what a chatty little boy he is. I received many comments from his old nursery who said he is a different boy now and talks to other children.
'He calls out his friends' names and can say that he wants something or likes it. He can now say a variety of different everyday words and phrases such as 'apple juice', 'I like it', 'don't want it' and 'toilet', along with many more. He has expanded his vocabularly immensely. Most importantly for me as a mother, he is much more confident and happy.
'He has now left I CAN, but has remained on at Mulgrave early years centre. This is great for Thien as the staff are aware of his communication problems. He really benefits from all of the visual timetables, one-on-one interactions and sign language that I CAN has cascaded into the main nursery. It has also meant that he has stayed with his friends.
'Last but not least, the I CAN teachers are passionate about helping children to speak and I can not thank I CAN and Mulgrave early years centre enough for everything they have done for my son and family.'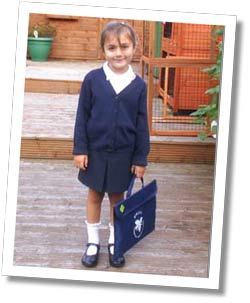 Lily's story (aged five)
'I first took Lily to the health visitor when she was 15 months old. I was concerned because she wasn't saying anything and instinctively I knew something was wrong. I had another daughter who is older than Lily, so I was able to compare their developments at different stages,' says Lily's mother, Sally.
After raising the issue of Lily's lack of speech, the health visitor was not overly-concerned and Sally was asked to keep track of it. Seven months later, there had still been no improvement, so Sally went back to the health visitor. At this stage, Lily was referred for a hearing test and an assessment with a speech and language therapist (SLT) who concluded Lily had speech, language and communication needs (SLCN) which affected her speech.
Lily attended a playgroup, which encouraged basic speech and language. Sally asked the SLT at the playgroup if there was anything she could do at home with Lily, and they provided resources that Sally used to work on Lily's communication development. At this time, it was also identified that Lily had glue ear, which was linked to Lily's communication problems.
At the age of three, Sally took Lily out of the private nursery she had attended since she was six months old and placed her in a local authority nursery with an excellent reputation.
'Lily enjoyed going to nursery, but once she moved in to the pre-school room she just hated it,' says Sally. 'She used to cry every day. I believe she felt isolated because she couldn't speak and express herself. She didn't have any friends to play with so she just didn't talk. She used to be so relieved to see me when I picked her up, it broke my heart.'
The private nursery staff did not possess the skills to support Lily's communication development and, with no statement, they were reluctant to give her any support, let alone one-to-one help. After Sally persisted, a SLT assistant started seeing Lily once a week.
Sally explains, 'Lily was a different child when she left. While the new nursery did not possess all of the skills needed to help her, they spent at least five-to-ten minutes a day practising sounds. This really helped Lily.'
"From the day Lily started at I CAN, the change in her was just absolutely unbelievable"
Additional speech and language tests showed that Lily was a bright little girl. She understood everything, but struggled to express herself. These tests showed that Lily had problems with her motor skills and articulation. Her brain and mouth were struggling to work together to produce words.
At three and a half, Lily was given a place at I CAN's early years centre in Sheffield. She attended two morning sessions and two afternoon sessions for a term. At the centre, Lily received intensive support by a multi-disciplinary team, including a SLT. Lily was part of a small group and had a programme of one-to-one intensive support and therapy.
'From the day Lily started at I CAN, the change in her was just absolutely unbelievable. She was very comfortable because the group was small and she felt safe. She started singing and talking at home more, so I videoed her on my mobile phone. It was so amazing – these things that most people take for granted. I just wanted to capture it forever. All the other parents said the same thing. We all just couldn't figure out how I CAN could take this group of children, who couldn't talk and change their lives,' says Sally.
Lily is now five years old and attends mainstream school.