Allison Lee offers advice on advertising your services, student placements, and suggests some great activity ideas based on the theme 'Around the world'
Expert advice
Advertising your services
To ensure your childminding business is a success, it is important to keep your places full. It may be necessary, at times, for you to advertise your service. Firstly, you will need to produce a card/leaflet giving details of your service and your contact number. It should be clear and legible with no spelling mistakes. Keep your advert short and simple, but make sure it contains relevant information such as the number of vacancies available, your experience and qualifications. You may like to consider putting a card advertising your business in places such as:
Local shop window
Local library
School notice-board
Doctor's and dentist's surgery
Baby clinic
Post office
Other ways of advertising which may be worth considering include:
Posting leaflets through doors – this can be beneficial if you live near a newly-built housing estate.
Informing your local Children's Information Service of any vacancies you have and giving them permission to advertise these online.
Advertising in local newspapers – be wary of giving away too much information.
Telephone directories – be careful not to divulge your address to avoid unwanted responses.
Word of mouth – join childminding groups and toddler groups to get your name known.
Am I allowed to take students on work experience placements?
Before you agree to allow a student to work in your setting you may like to consider the following:
Students on training placements do not usually alter the number of children you are registered to care for.
Training placements normally only last for a few weeks and therefore a

CRB

disclosure is not necessary. However, if the student is with you for longer, you will need to obtain a

CRB

disclosure in accordance with Ofsted regulations.
Students must be supervised at all times.
You may need to display an employer's liability insurance certificate if you have a student working on your premises.
Occasionally, a student may be placed with you for a longer period of time. In these cases it may be possible for you to obtain a variation of your registration which will allow the student to work as your assistant. This may increase the number of children you are allowed to care for, however this must be discussed with Ofsted.
Try to get to know the student prior to offering them a placement to make sure that you can work well together and they have the right attributes for the work.
Discuss your intentions with the families in your care and get their opinions prior to agreeing to a placement.
Activities
Around the world
Wigwam wonder
Make a wigwam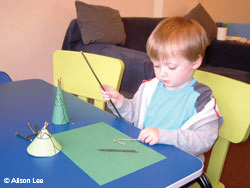 Creative Development
What you need
Three twigs; string; circular piece of material.
What to do
Stand the twigs on end so that their base makes a triangle and tie the tops firmly together. Cut a slit, one radius width, in the material. Fold the material into a cone shape and cut out a small circle at the top so that it fits neatly around the top of the twigs. Fold the cone in place around the twigs and secure with sticky tape.
Seasonal calendar
Create a calendar for all your festival dates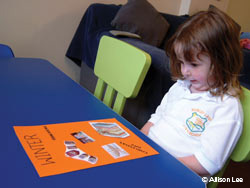 Knowledge and Understanding of the World
What you need
Large piece of card; computer; internet; pictures cut from magazines or books showing various festivals or photographs of celebrations; felt-tipped pens; marker pen.
What to do
Divide your piece of card into four sections to represent each of the four seasons, and write Spring, Summer, Autumn and Winter at the top of each section. Using the online calendar, collect dates for festivals and enter these on the appropriate section of your calendar.
Let the children decorate each event on the calendar using pictures, photographs or drawings.