Harness children's love of film with this month's National Year of Reading theme – 'Screen Reads'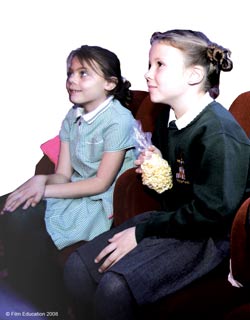 Engage children in film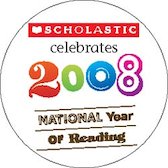 Working with film is engaging and motivating, and creates opportunities for speaking and listening and cross-curricular links. While film can improve the reading and enjoyment of all texts, 'reading' film is a skill in itself. It can help children to develop a deeper understanding of storytelling, while the vocabulary of filmmaking allows children to compare the composition and effect of film with writing.
Activities
1. Film adaptation
What are the children's favourite films? How many of them are based on novels? Have the children read them? Explore the way writers tell stories compared with film. Elicit that writers rely on descriptive and figurative language to create characters and settings, while filmmakers use camera angles, actors, set design, special effects, lighting and audio. The passing of time in a book is established by time connectives and paragraphs, while a filmmaker uses editing to sequence scenes.
Discuss the comic books and graphic novels that have been made into films. Comic books tell stories in a similar way to film as characters and events are framed in the same way as in a camera. Storyboards are very similar to comic books. Filmmakers use storyboards alongside the script when filming. Invite the children to create their own comic books and storyboards. (Subscribers can use the Interactive resource, 'Once upon a time'.)
2. Film pitch
Filmmakers have to 'pitch' their ideas to producers, who decide if the film will be made. Presenting a film pitch can be a fun speaking and listening activity. A teacher could play the producer and the rest of the class could be studio executives. Invite the children to pitch a film based on an adaptation of a book they have enjoyed.
Tell the children that when presenting their pitch, they should consider the following: Will their film be a mystery, adventure or comedy? Will it be live action or animation? Who is their film aimed at? Which actors will they choose? Will they need special effects? At which locations will they choose to shoot it?
Summarise the plot in an exciting way, choosing language carefully. The children's film pitches can then inspire writing: a short story, a script, a poster or a voiceover for a trailer.
3. Film trailers
Watch a range of trailers for family films from different genres – fantasy, comedy, and so on. Film trailers are persuasive media designed to get an audience excited about seeing a film at the cinema. However, they also tell a narrative, establishing genre, setting, character and plot, without (hopefully) giving away the ending.
Trailers are a great way to introduce children to film language. To 'read' a trailer, children need to consider all aspects of film narrative and their effect; use of camera, editing, sound, music, light and colour, as well as any voiceovers and text. Ask the children to create a storyboard of a film trailer for an adaptation of a book they are reading, choosing key images from the story and writing voiceover text. They could even film a trailer and edit it with persuasive techniques. Alternatively, children could record their voiceover with music and sound for a podcast or radio trailer.
Contact Film Education at mattp@filmeducation.org for a copy of their free resource 'Teaching Trailers Primary'.
4. Film reviews
Read a variety of reviews of recent children's films. Discuss the key features of a film review. The basic plot (and key characters) should be briefly summarised without giving too much away. A reviewer should make arguments about a film's weaknesses, as well as its strengths. They should also consider different audiences: boys, girls, adults and fans of particular genres or actors. Ask your class to write a balanced review of a film they have seen recently. You could get them to present their reviews to camera for a TV show or podcast them for a radio programme. (Visit www.youngfilmcritic.org for ideas.)
5. Film scripts
A script or screenplay is a film's blueprint. Read the script for a popular children's film (available in bookshops or online). You could choose a film that was based on a novel to compare all three text types. Choose a script extract and ask the children to perform it. Children could then write their own original short script for a new scene using some of the same characters. Film the children performing their scripts. Then, watch the performances as a class to evaluate them.
Online extras!
Visit www.filmeducation.org for more free online resources and to join their mailing list.
For activities based on the exciting new film adaptation of Cornelia Funke's Inkheart, plus an online poster, script extracts and trailer — visit the activity page.
For more about the National Year of Reading visit www.yearofreading.org